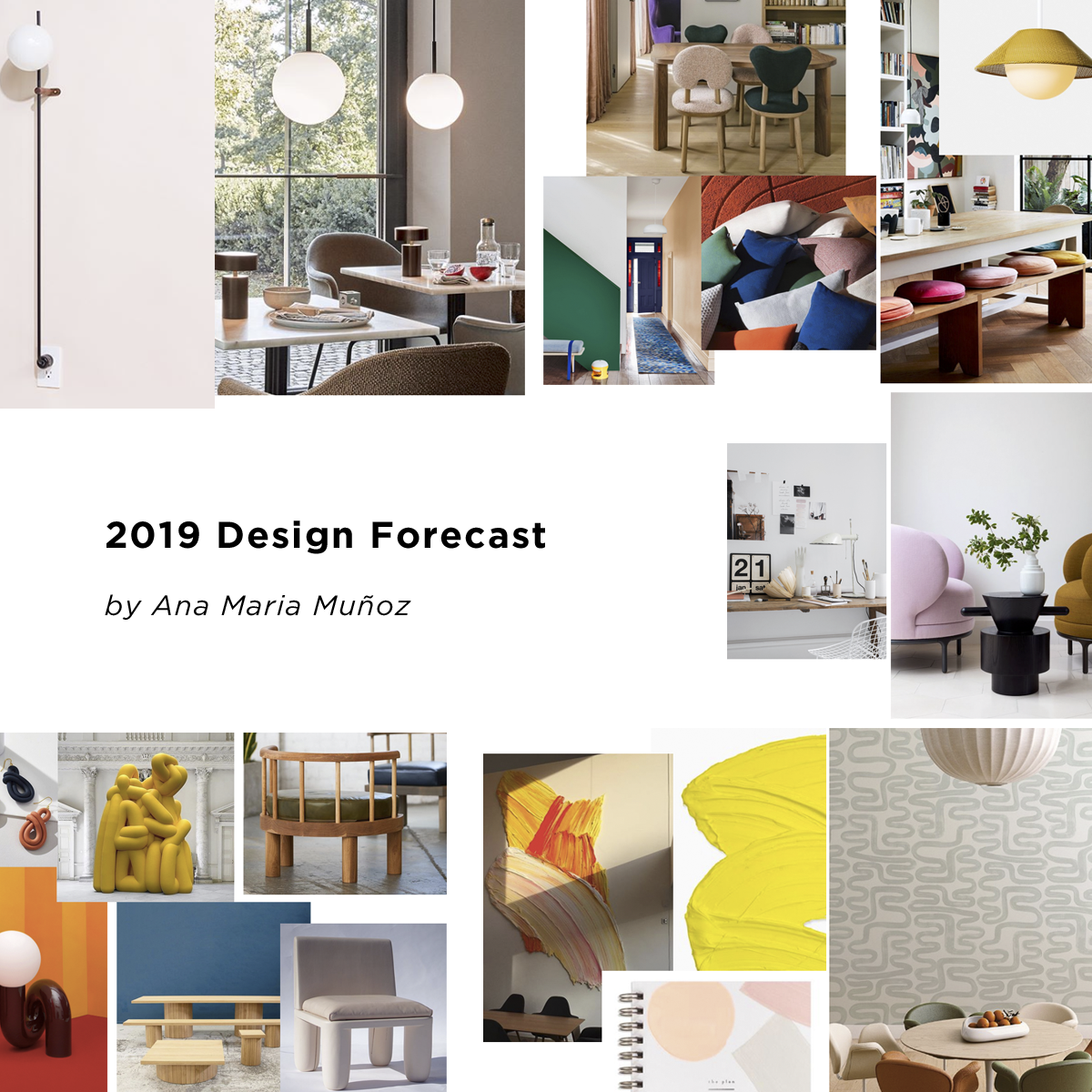 A new year brings new design trends, but "trend" is tricky for me.  Too often, concepts and designs paired with that word can easily be dismissed as fleeting instead of a lasting aesthetic style choice.
By now, nearly every publication that covers interiors has shared its top callouts for 2019. Some, if not most are nothing new or particularly exciting (though they might have been five or ten years ago), but that's the way trends go - they can either take that long to feel new to a wider audience or burn out so quickly that they never make it onto a bigger radar.
Now I'm taking a turn in sharing five aesthetic style choices that I believe have bold staying power and may see a more mainstream reach in 2019.
---
1. Brush Stroke Styling
A whole lot of playful, a little romantic, and highly approachable. In neutral tones or colorful contrasts, perfectly imperfect painted brush strokes have been all over everything from stationery to wallpaper.
Lately, I've been seeing this styling blur into abstract watercolors - an organic response to pop art's sharp and defined lines and Memphis-inspired shapes that have also become popular once again.
from left to right, top to bottom
yellow wall art / notebook / wallpaper / canvas art / throw pillow / black wall art
2. Soft Edge Signals
Refined finishes in not-so-serious bent shapes give chairs, lighting, jewelry, and art a fresh new take on polished playfulness.
I see the "noodle" style as the extreme end of a movement toward a general softening of lines in interiors. Think rounder, fuller, more organic (even chubby) looking forms in tables, chairs, and decor, and fewer dominating hard edges.
Softer lines swing to the other side of the pendulum away from the sharp geometric forms that dominated much of the past several years (hexagons and triangles as/on everything) and strait lines of mid-century modern wood furniture, whether original or newly "inspired-by."
I've been obsessing over dining and coffee tables with this design direction for over a year now; I'm excited to see it appear in broader and more readily accessible markets in 2019.
from left to right, top to bottom
curvy furniture in living area / wood table / chair and light / earrings / yellow art sculpture / column table collection / wood chair with green seat cushion / wood chair with chubby legs
3. Jewel Tones Expanded
Nothing incredibly new here, but pairing jewel-toned with pastels and neutrals - and a willingness to try them - will hit a little more mainstream. I love a bright white painted room, but there's no denying the power of a deep yet vibrant shade on the wall or in decor, even if just a pop.
Jewel tones are deeper, richer, and more moody than the pastels that have been popular over the past few years, but they play beautifully with each other when given a chance.  For the color averse, try a throw pillow, a blanket, and even coasters to introduce a bit of color contrast to an otherwise visually monotone space.
from left to right, top to bottom
ding table with jewel tone seating / entryway and stairs / throw pillows / yellow pendant / bench seating with cushions / art print / felt stone trivet / square felt coaster set
4. White In All Forms
Nothing feels more like an instant modern update than a piece of white decor. There's something about the simple brightness of the color that feels of the moment yet timeless all the same. Depending on where an all-white item is placed, it can make a bold statement popping from its surrounding.
More of a neutrals fan? White will never steer you wrong, but I would consider the form of the piece so that it is intriguing enough to hold its own amidst a single or two-tone color palette setting.
from left to right, top to bottom
workspace / seating for two / floor lamp / porcelain pot / wire bowl / living area
5. More Opal Globe Lighting
This timeless silhouette is friendly, warming, and pleasing, and looks great almost anywhere.  Its high approachability allows it to span the style interests of people seeking mid-century modern designs to people who want designs of today (even if they've taken cues from the former).
Opal designs make excellent and highly functional accent lights (especially with an LED bulb) while serving double duty as modern art. This versatile lighting option is beloved by us and our customers, and it's here to stay.
from left to right, top to bottom
chandelier / nightstand / carrie LED / wall sconce / dining room
---
Ana Maria Muñoz is the Owner, Buyer, Creative Director, and Janitor at Port of Raleigh -- an independent family-run design store for home and lifestyle goods located in Downtown Raleigh, North Carolina.