It felt great to be back, back in a buzzy place where life happens at every turn, and the future bumps up against the past; all nowhere more present than in New York's built environments. From the airport to the mall, I recently experienced the in-progress and newly minted new New York.
Here's what caught my eye + related notes...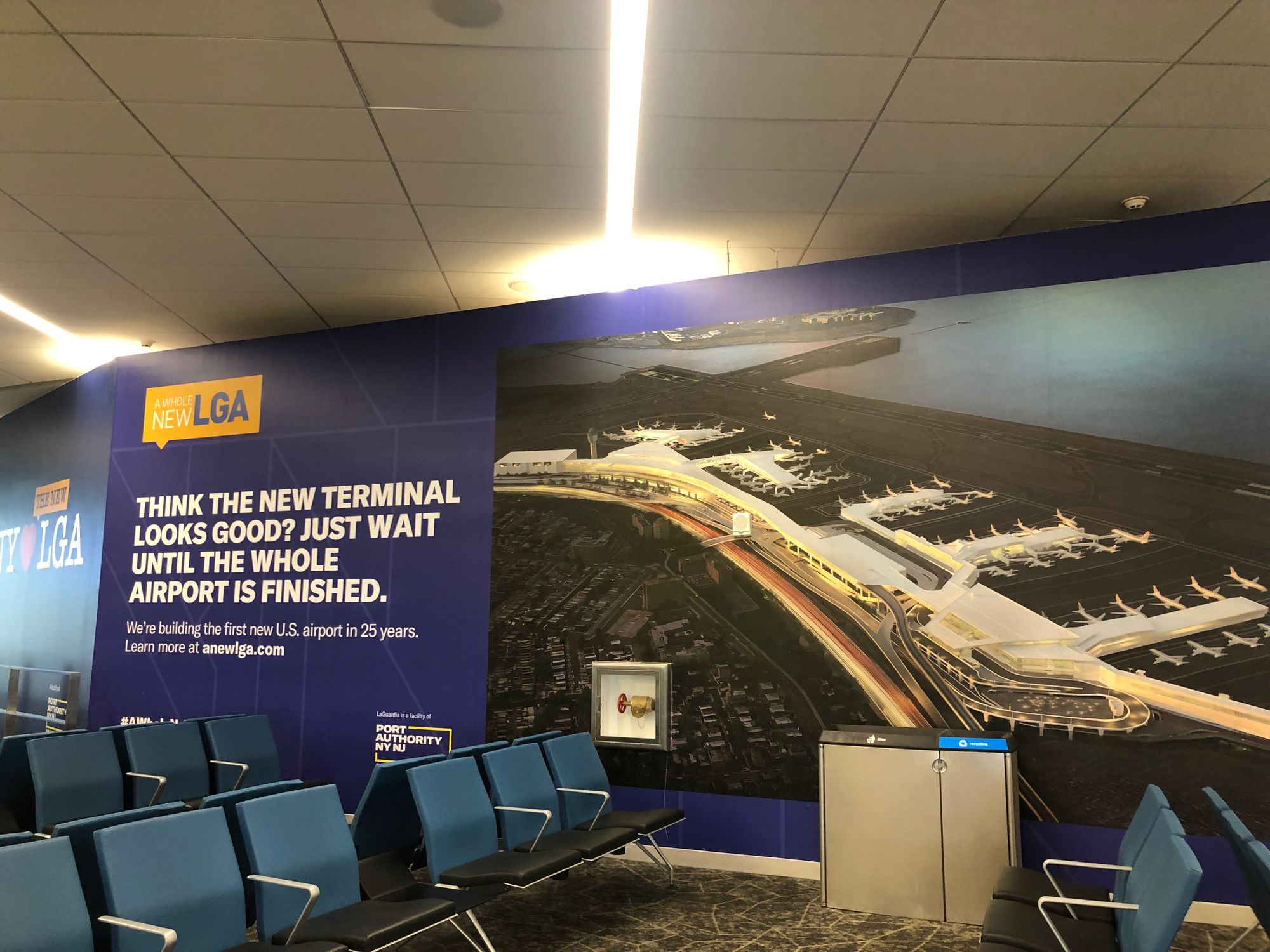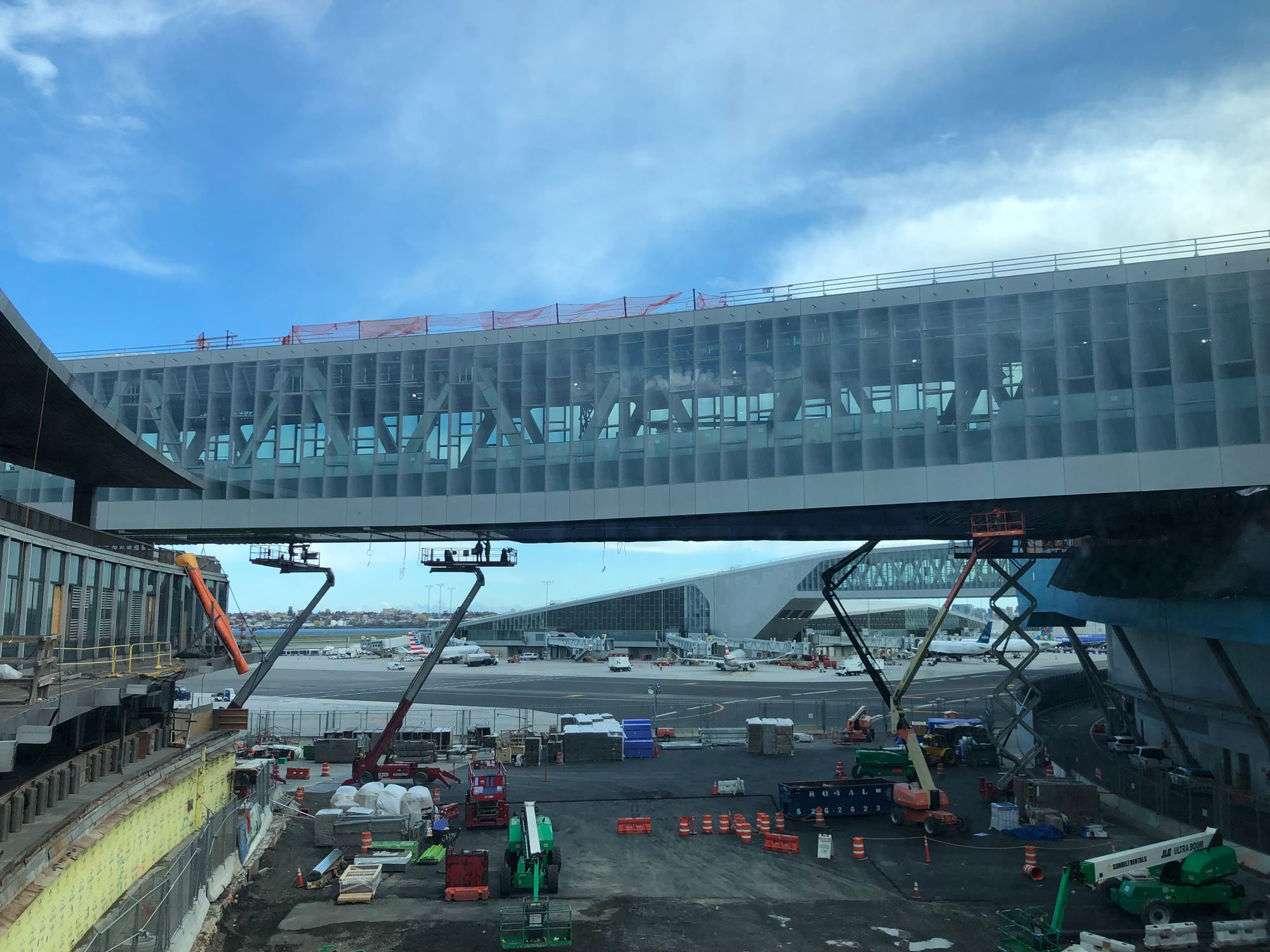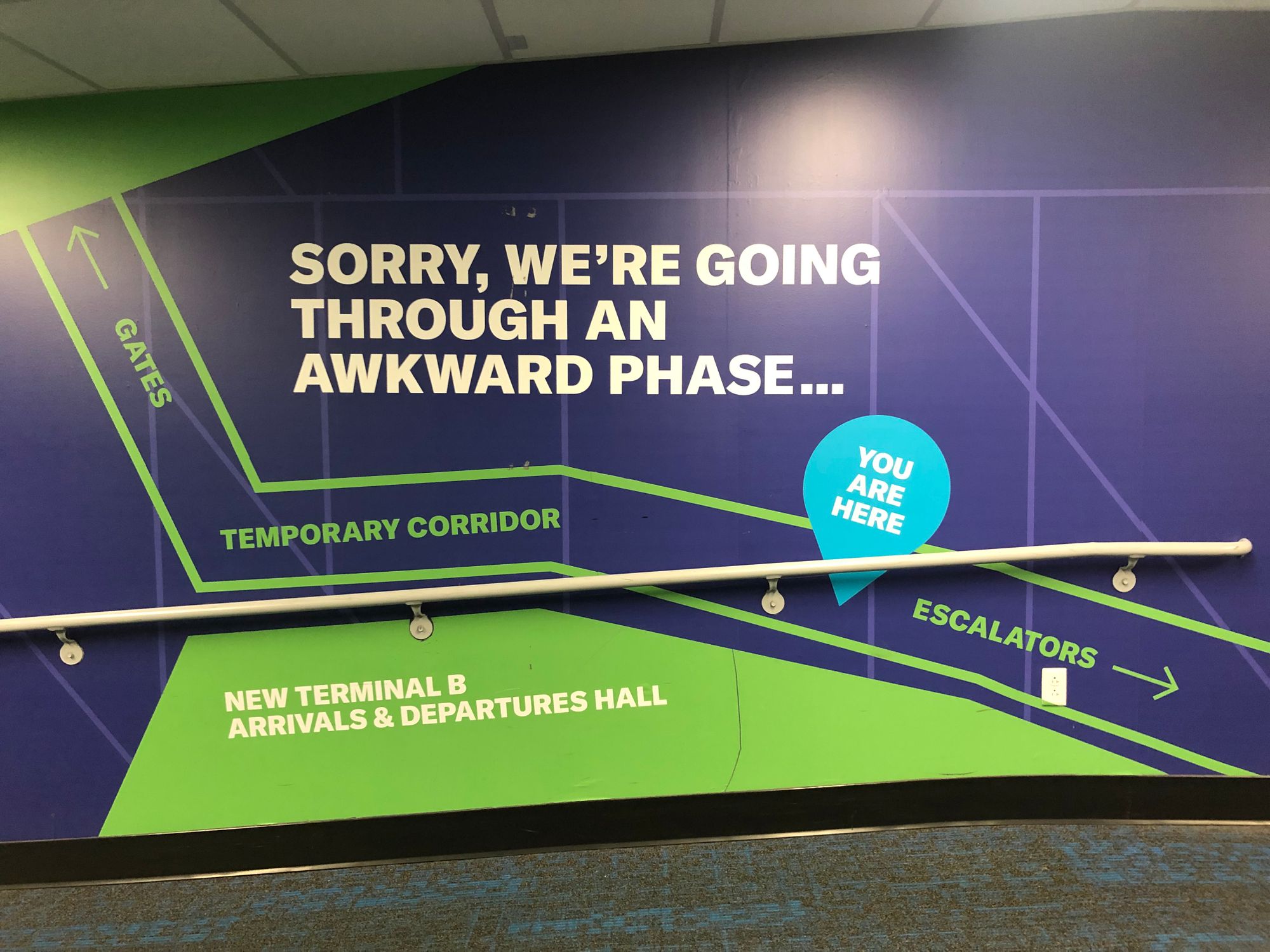 The best way to deal with inconveniences and eyesores? With a bit of humor and humblebrags for what's to come.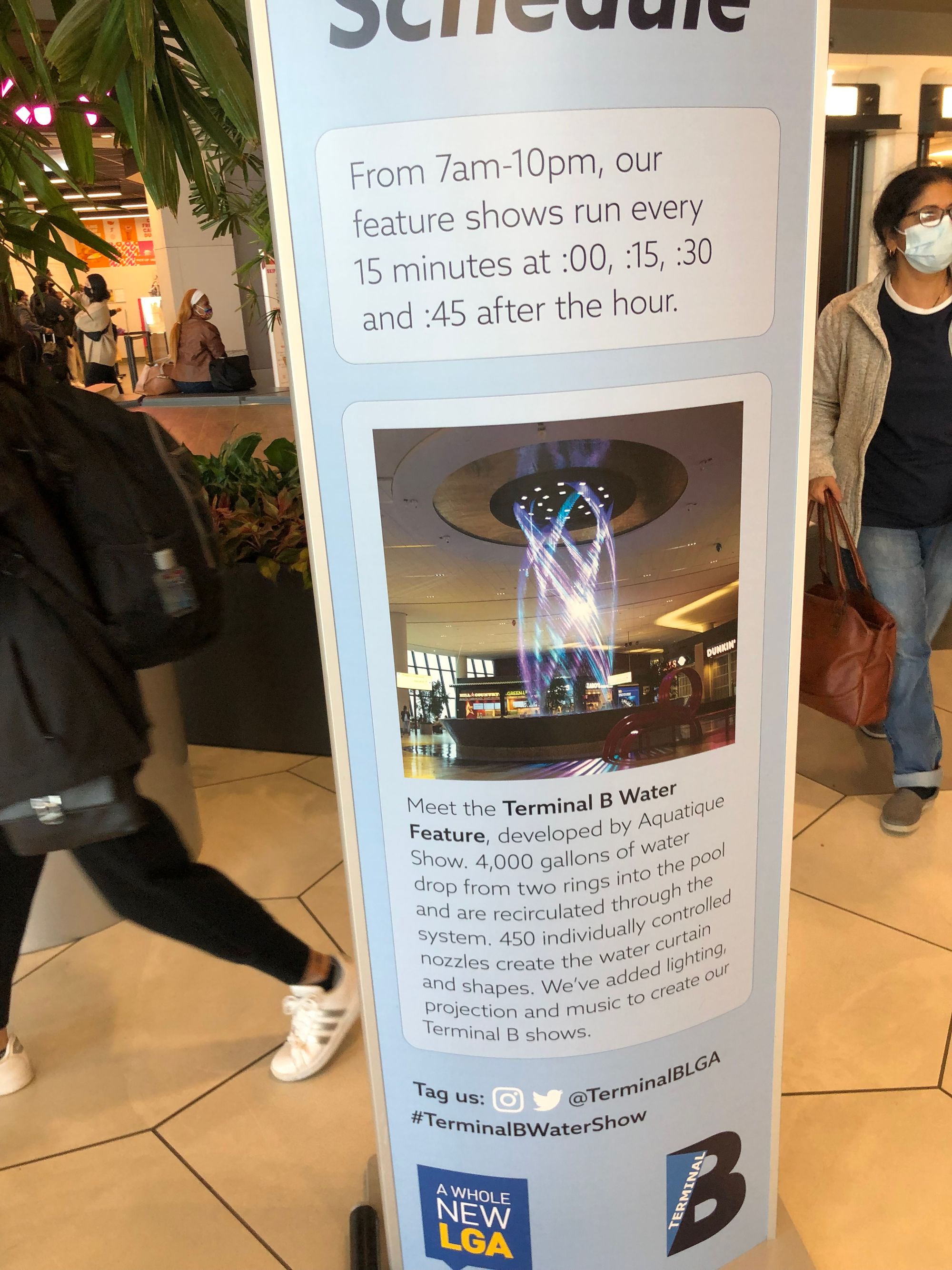 In-terminal entertainment, a-la Las Vegas (something that U.S. airports has lacked). I caught the last 30 seconds of the show. Still, what I missed in the whole presentation I gained by observing fellow travelers enjoying a distraction from an otherwise mundane airport experience.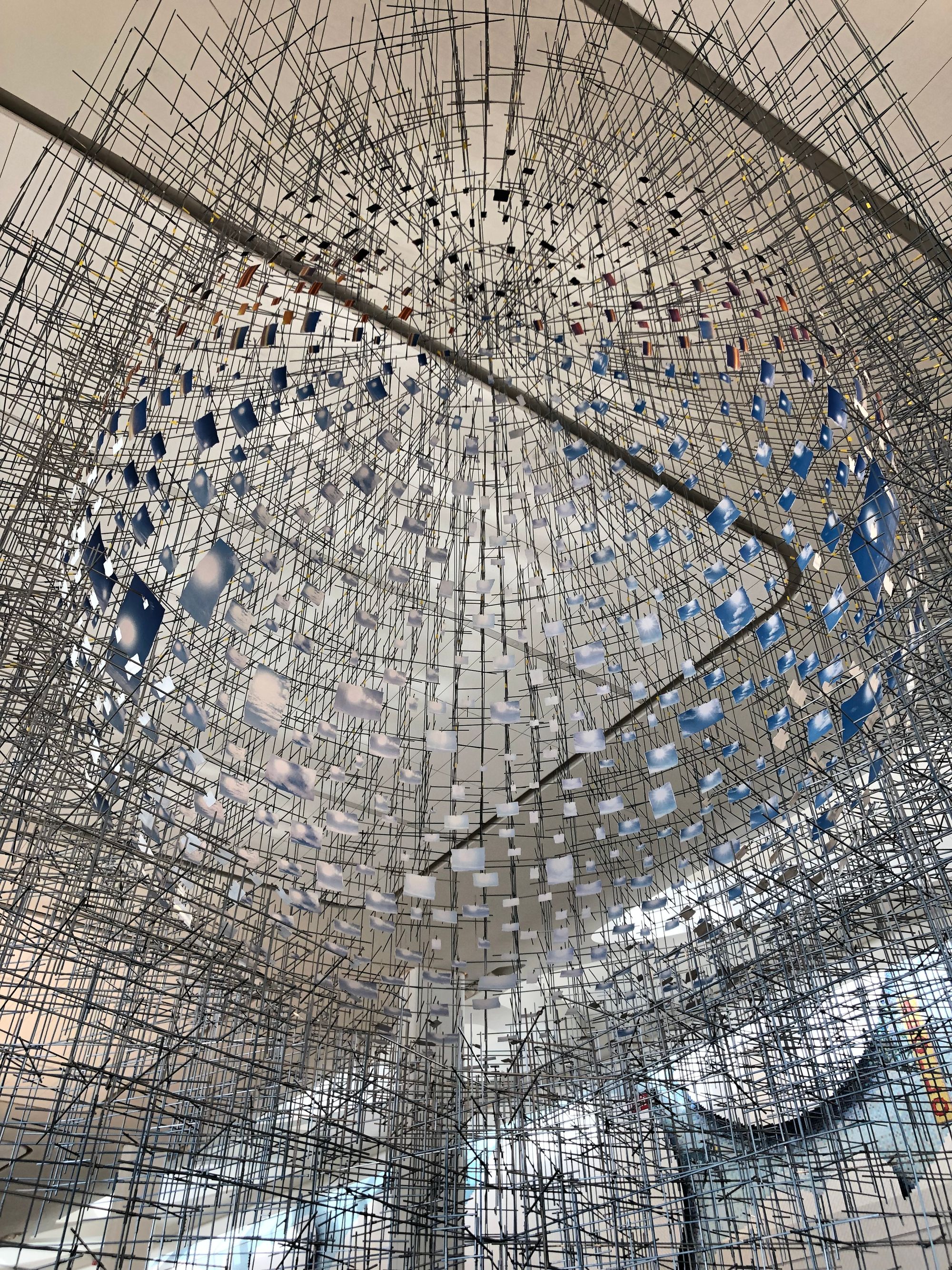 I remember reading about this work of art by Sarah Sze,  installed during the pandemic's peak–a feat on its own. I was awestruck seeing it in person and felt so lucky to stand beneath it for a good while.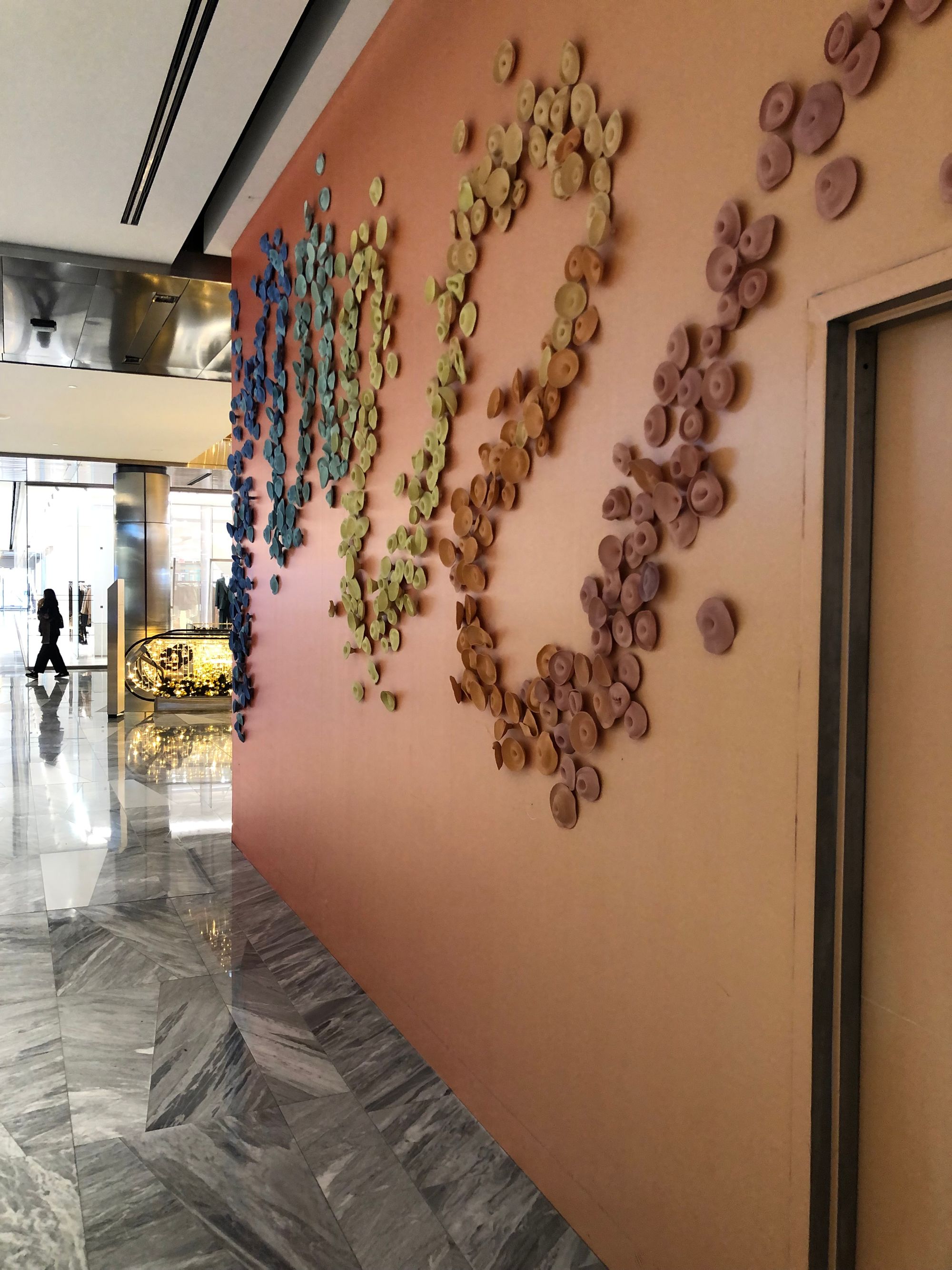 Since I was in town for the design fairs, I stayed close by for lodging and leisure. Despite my shop-small credentials, I love malls. I love excellent malls, and Hudson Yards seems to be an excellent mall.
The commissioned and collaborative original artwork that wrapped empty storefronts was refreshing and enjoyable...a nice way to break up the retail and mall-branded visuals.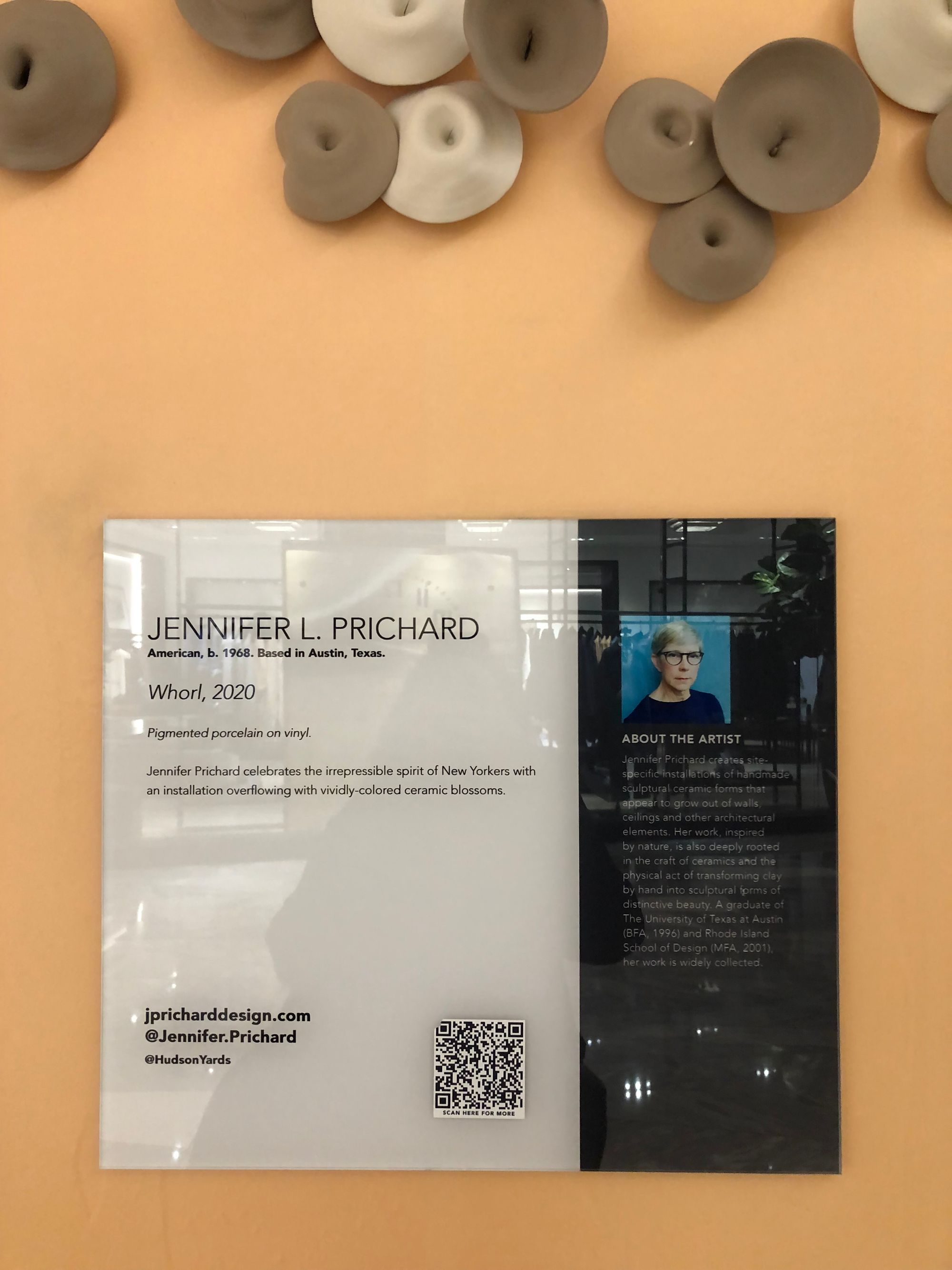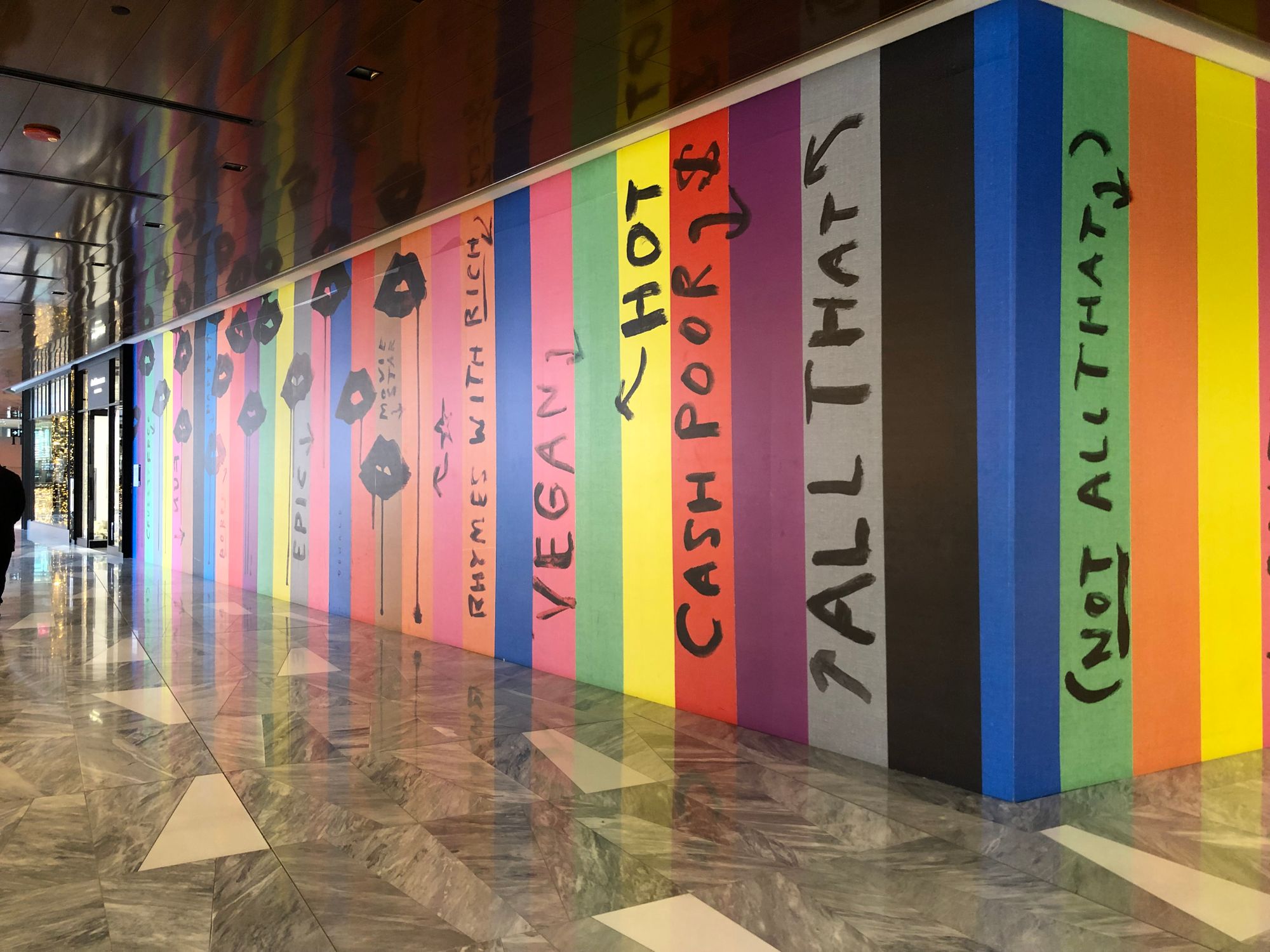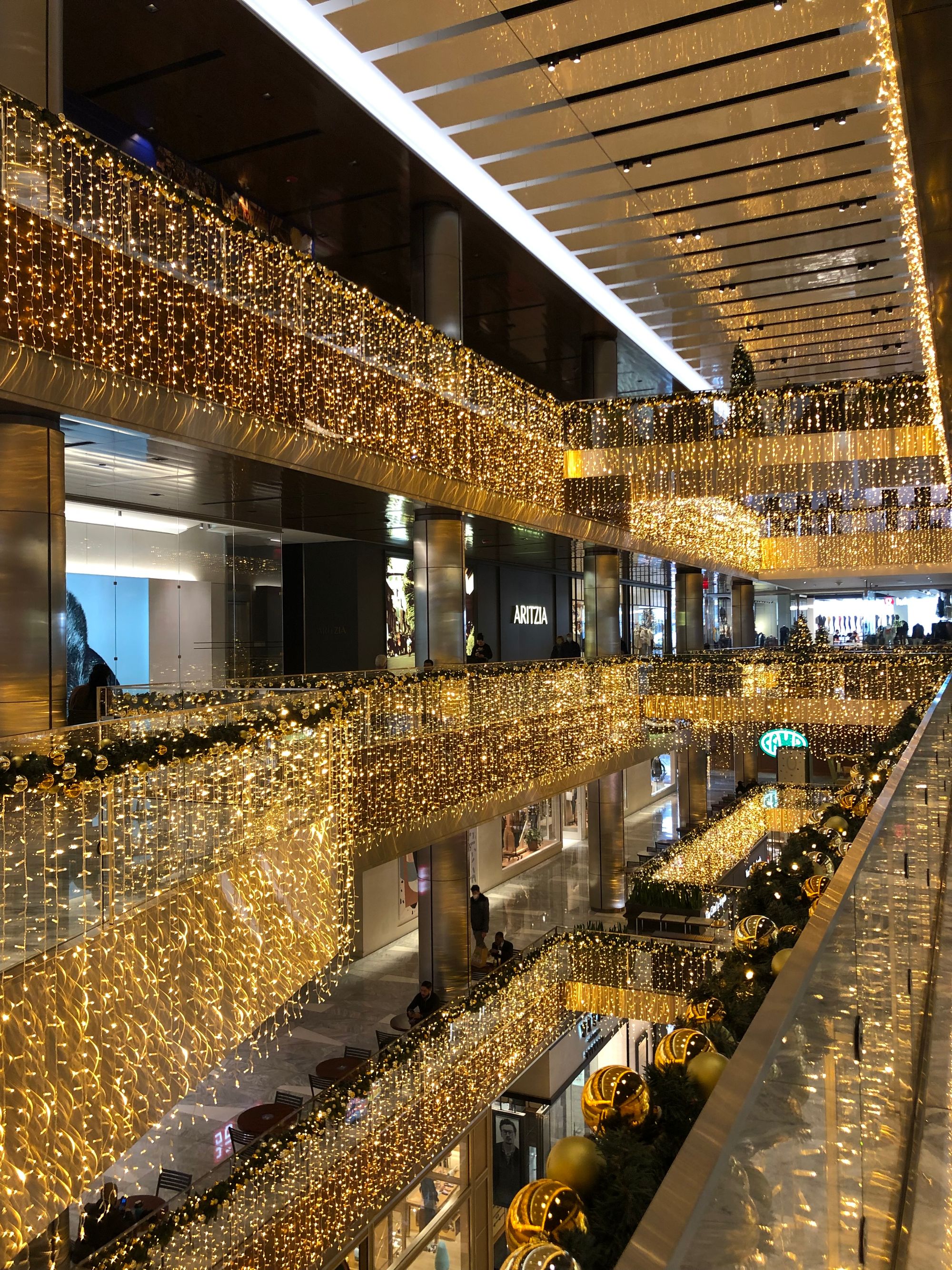 They did not skimp on holiday lights! I was fully immersed in and mesmerized by the gentle twinkle of the lights draping the walkways and escalators–a holiday soundtrack made for an even better backdrop for shopping.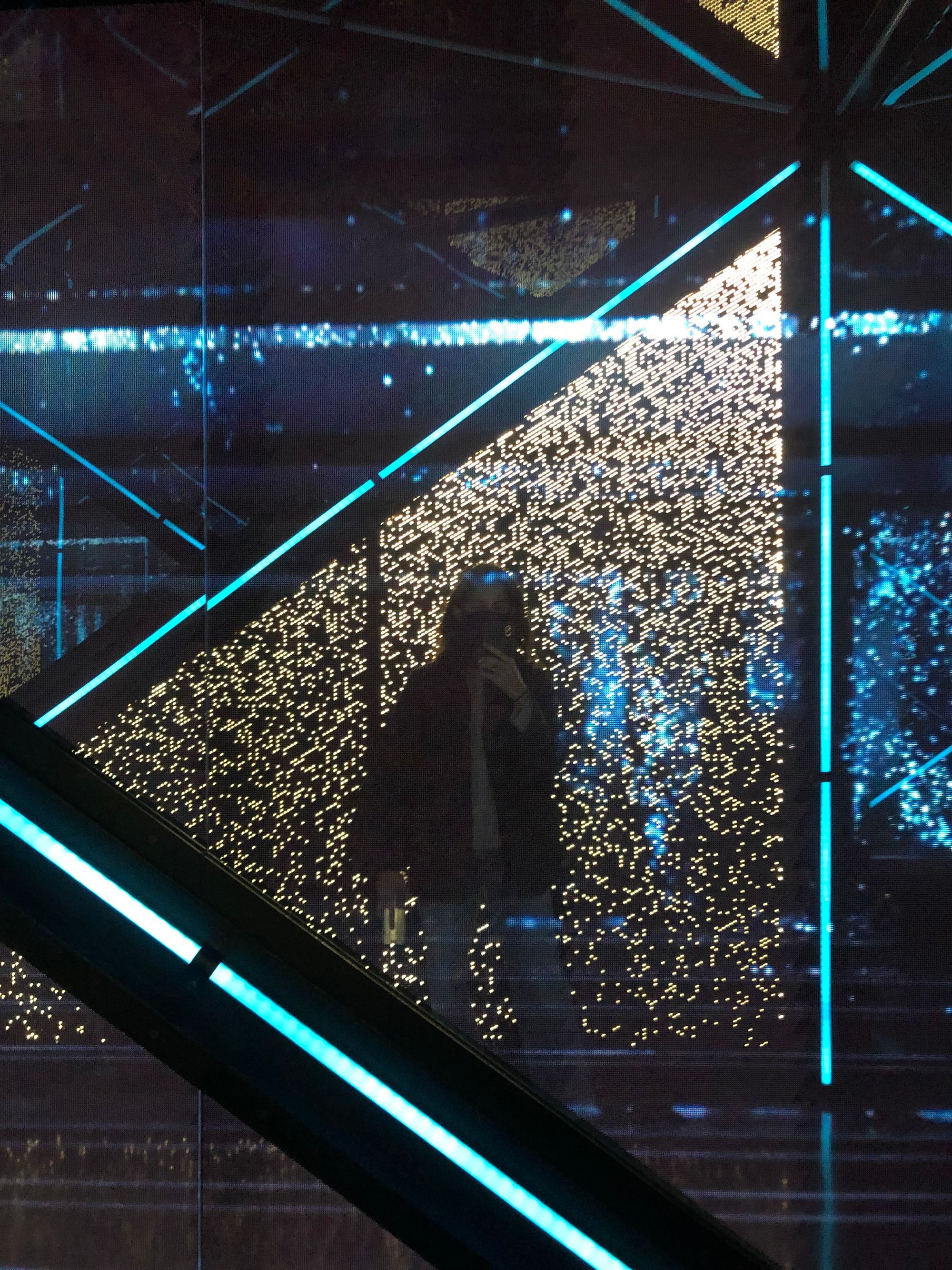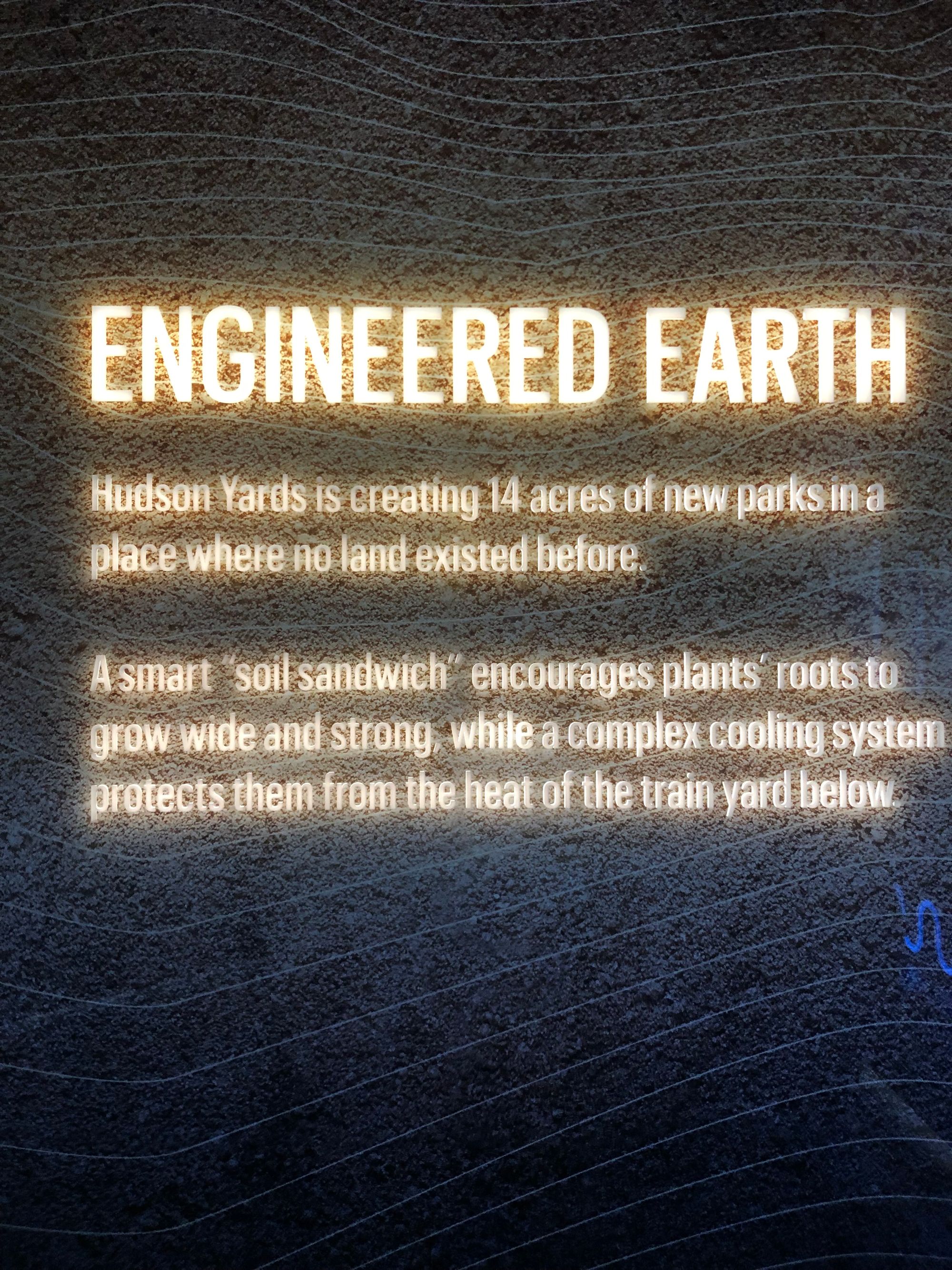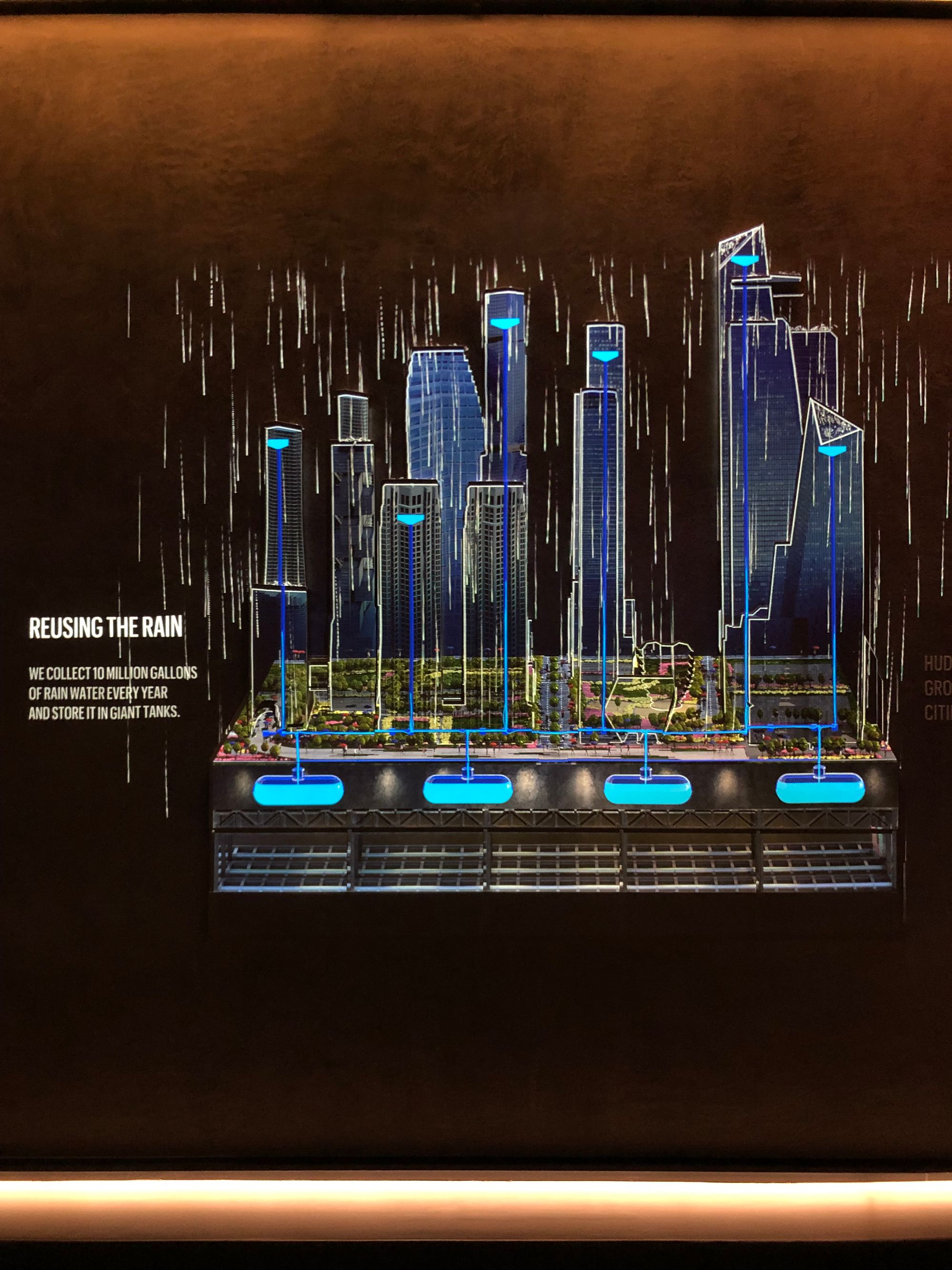 Hudson Yards is so much more than a mall; it's practically an entirely new city on its own, with several buildings and parks under its name.
And being more than a mall to check out, a few friends recommended that I visit its new observation deck, The Edge.
I imagined that I'd pay for a ticket and go up an ordinary elevator straight to the top, but no, it's a dynamic digital experience from entry to exit.
Having read about the engineering feats to execute the development's vision, I had a vague understanding of the inner workings of Hudson Yards. Walking through the exhibition hallway, and seeing thoughtful digital depictions of their built environment was something else.
At the end of the exhibition, I stepped into an elevator for a ride unlike other elevator rides. And in an instant, I was at the top of the modern world.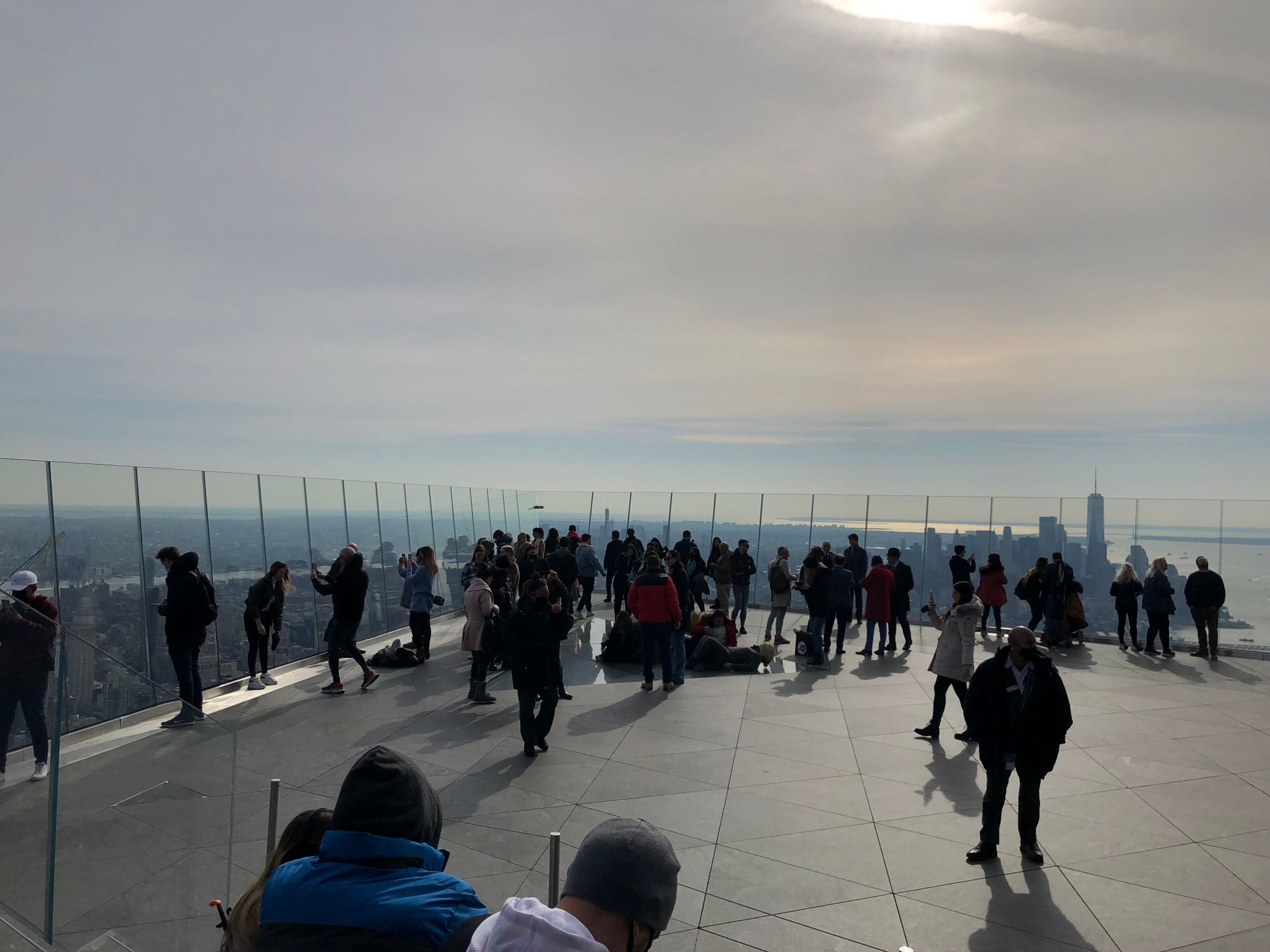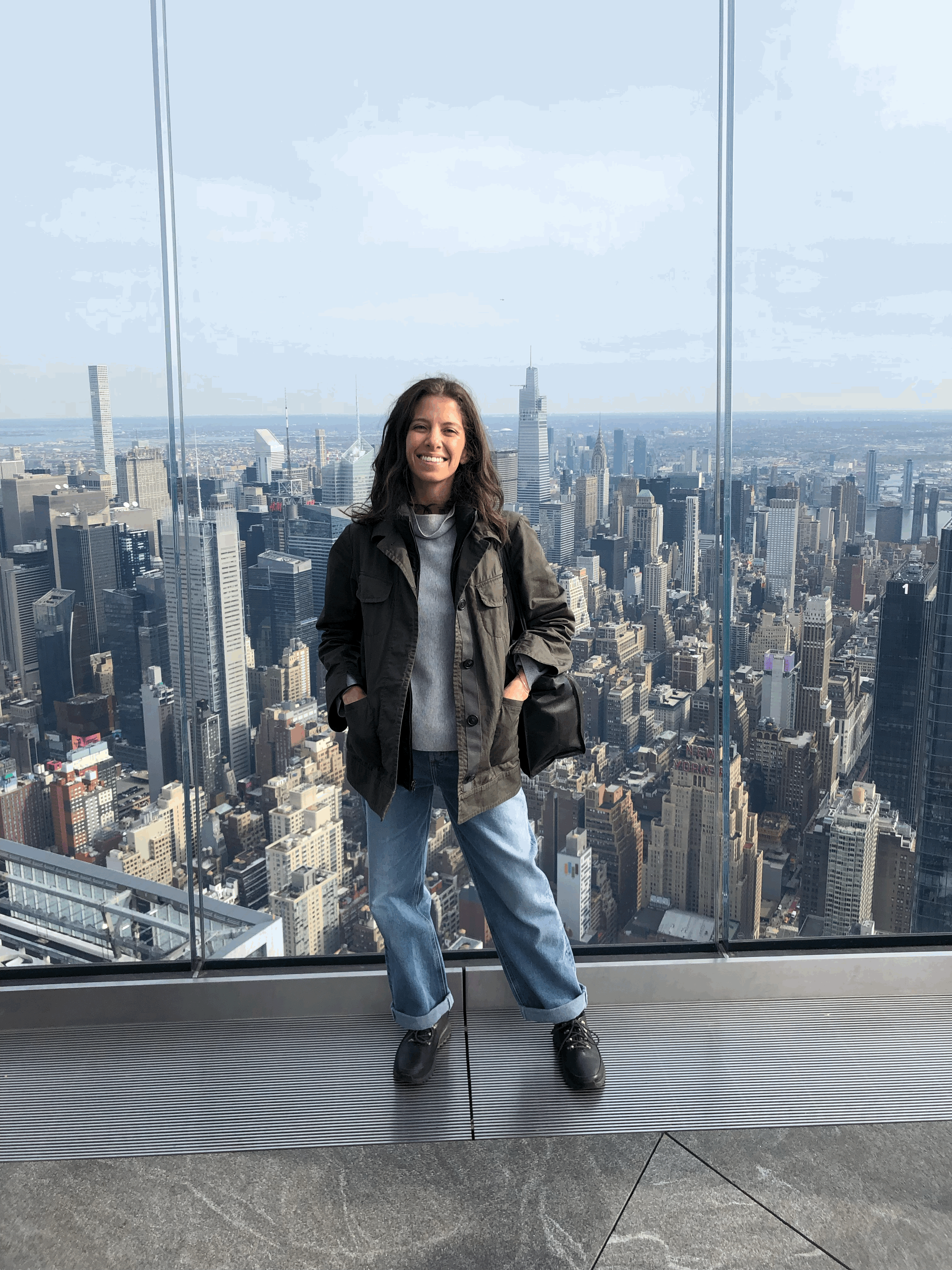 (And if you're traveling solo like I was, you may get lucky and ask the right person for a photo who turns one shot into a mini photoshoot to "give you options")
Standing on a platform solely intended to take in views of city life built by humans for humans, was also something else. With the exception of the surrounding water and sky above, everything within sight had once been an idea. Then step by step, brick by brick, and voila...our built-environment over the centuries.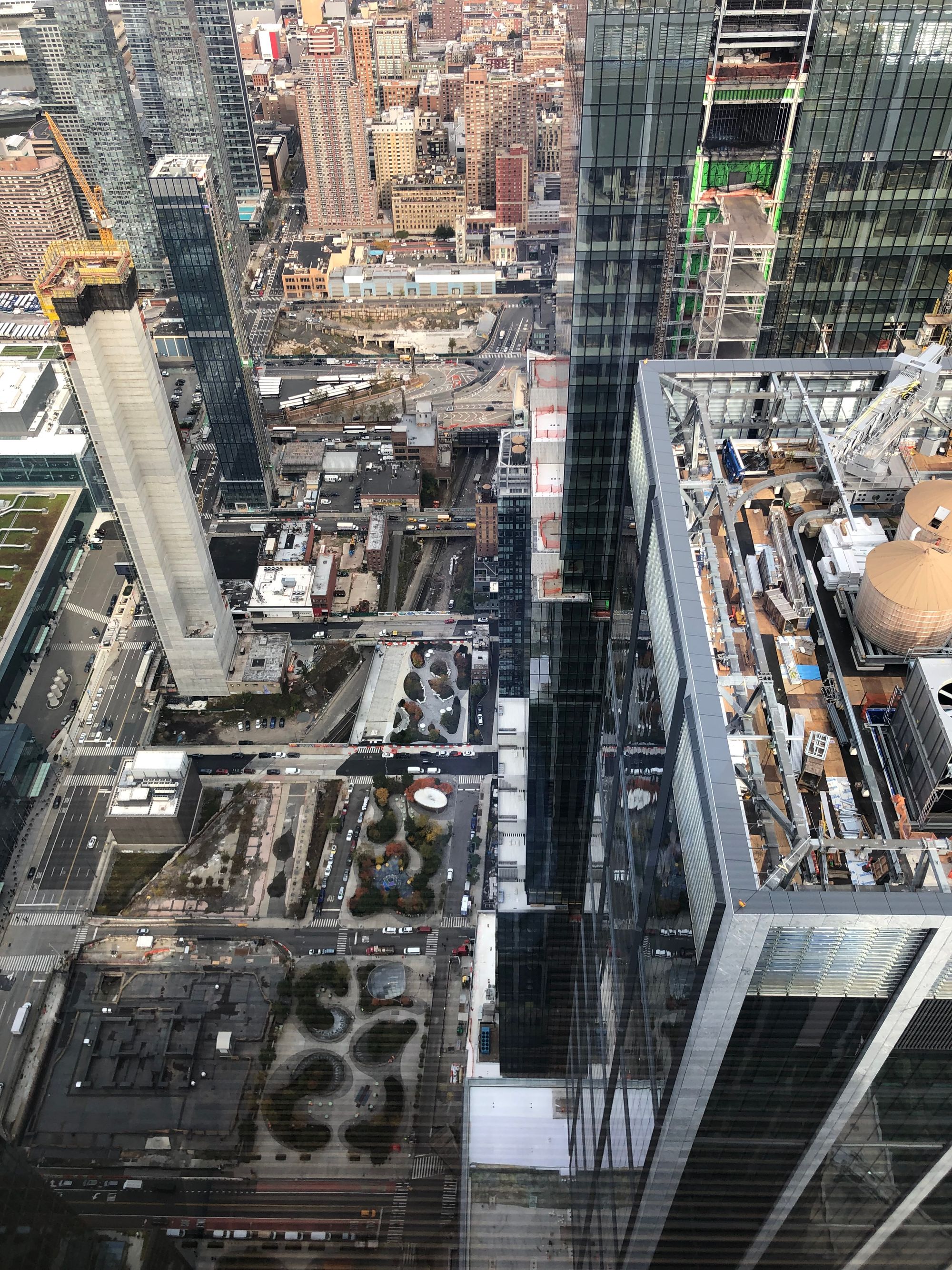 Back on the ground, and a few blocks from Hudson Yards, two adjacent buildings caught my eye. One with a seductive wavy facade and another with a zigzag edge reminiscent of the ancient Mayan Temple Chichen Itza. (My 20-year-old self still impresses me for making a temple run between spring break antics in Cancun, Mexico).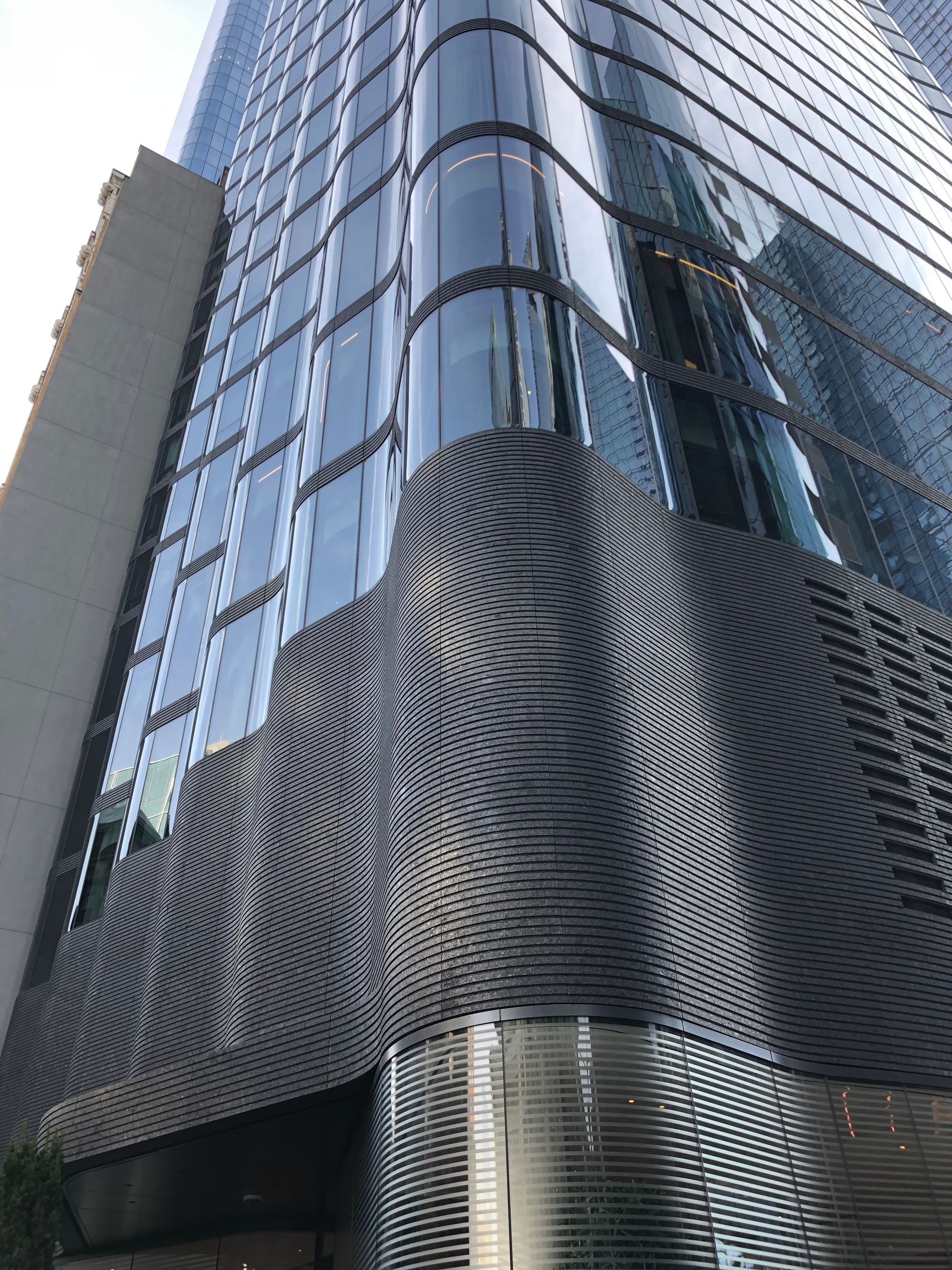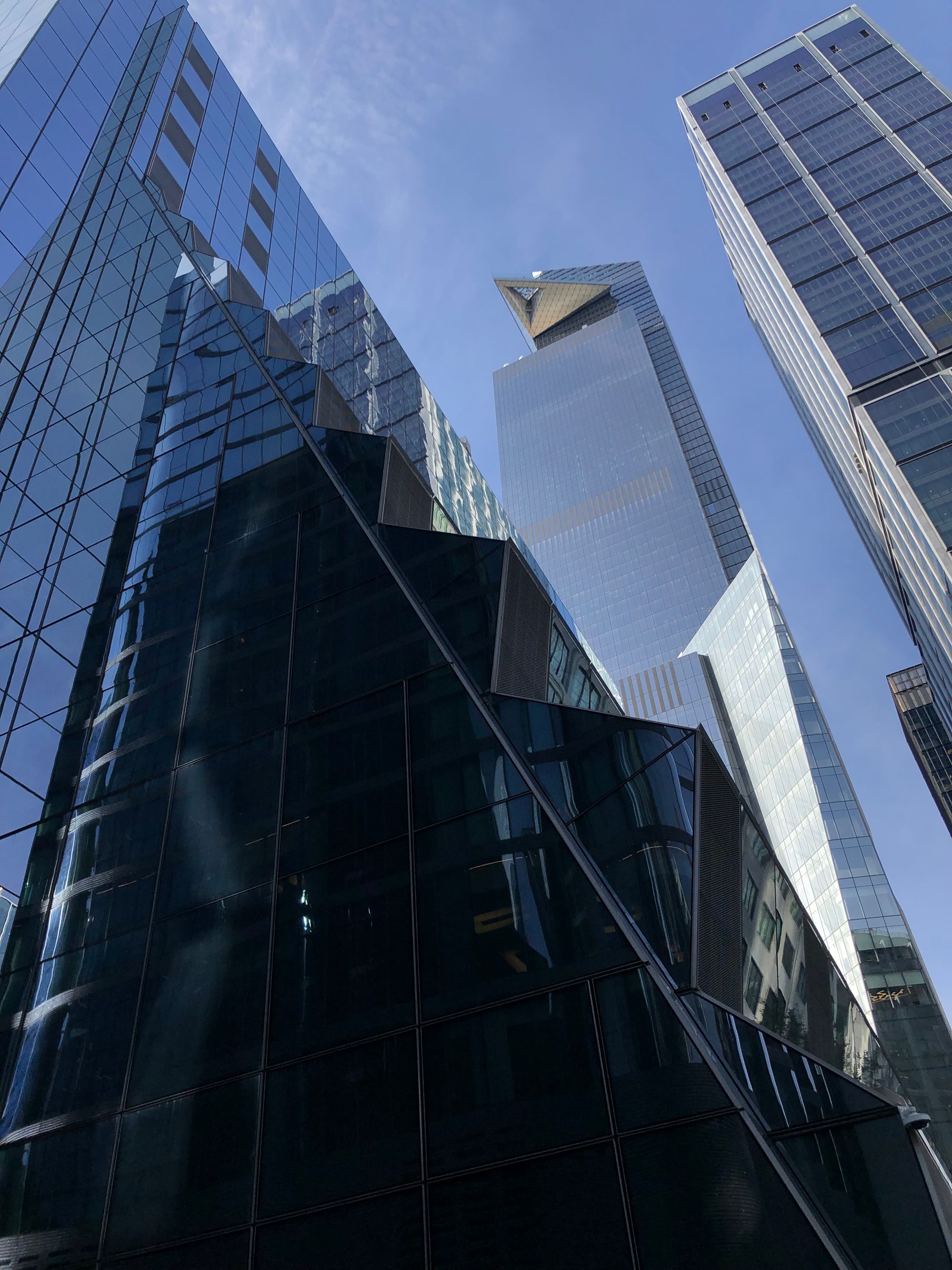 In between the buildings was a meandering walkway that led to an open plaza.
It was more than a pedestrian plaza; it was another mall, or rather, a new place-making destination called Manhattan West.
While retail spaces and the winter ice rink were still under construction, I felt something impactful to come. Foot traffic was light, coming mostly from office workers in the new towers that encase the commercial core of the block, but soon enough, the tourists and locals would come to wander through and linger, too.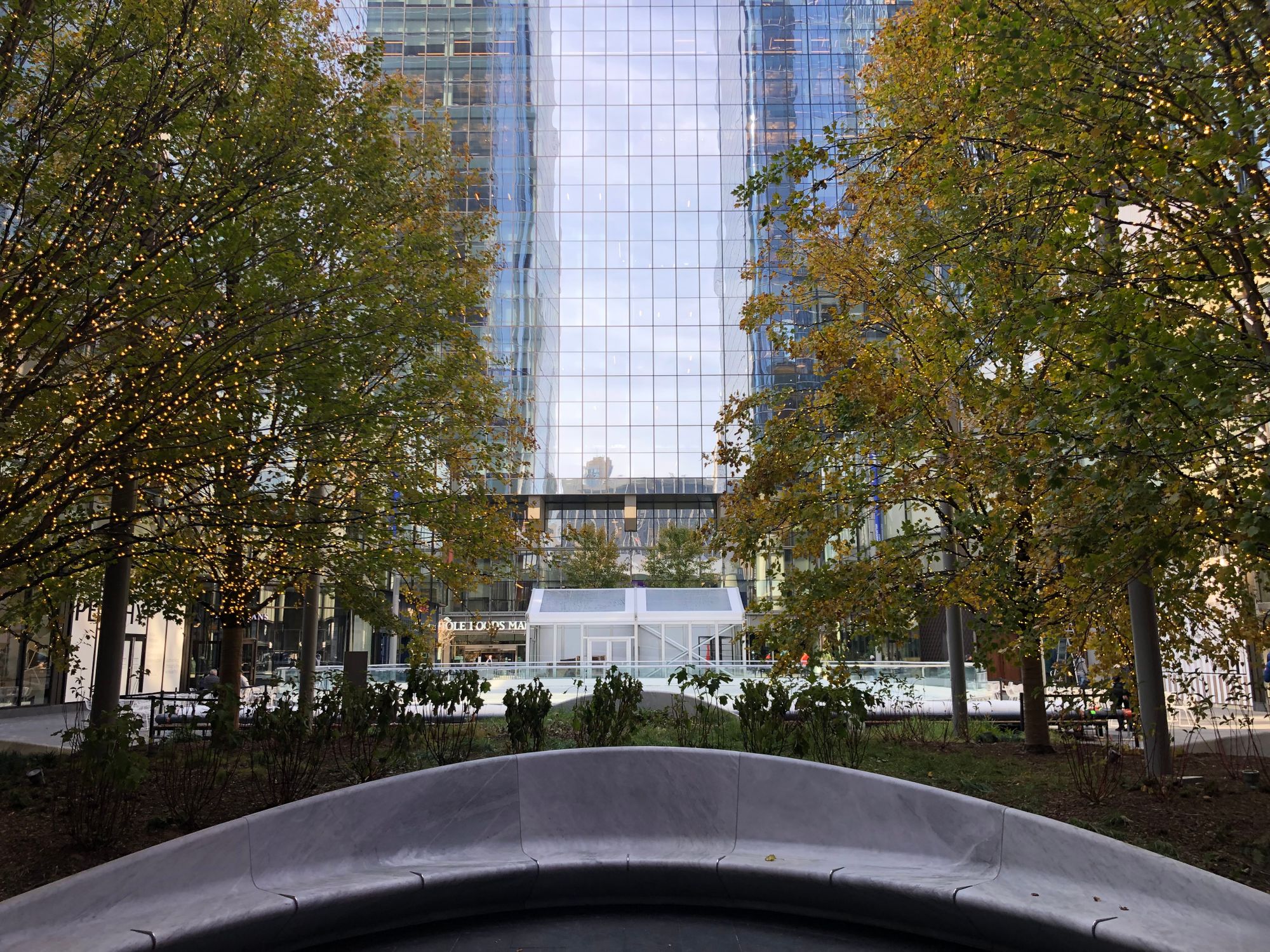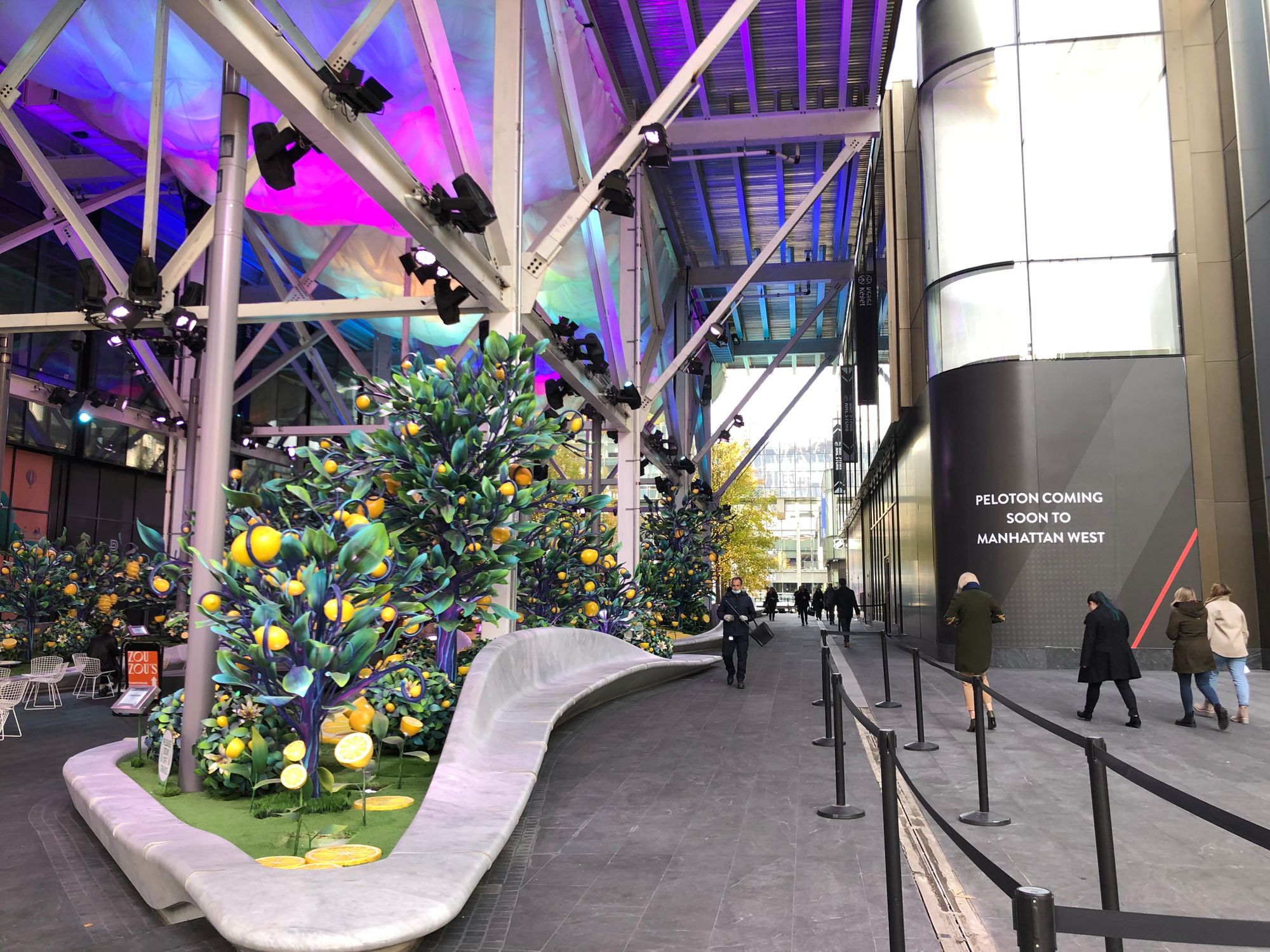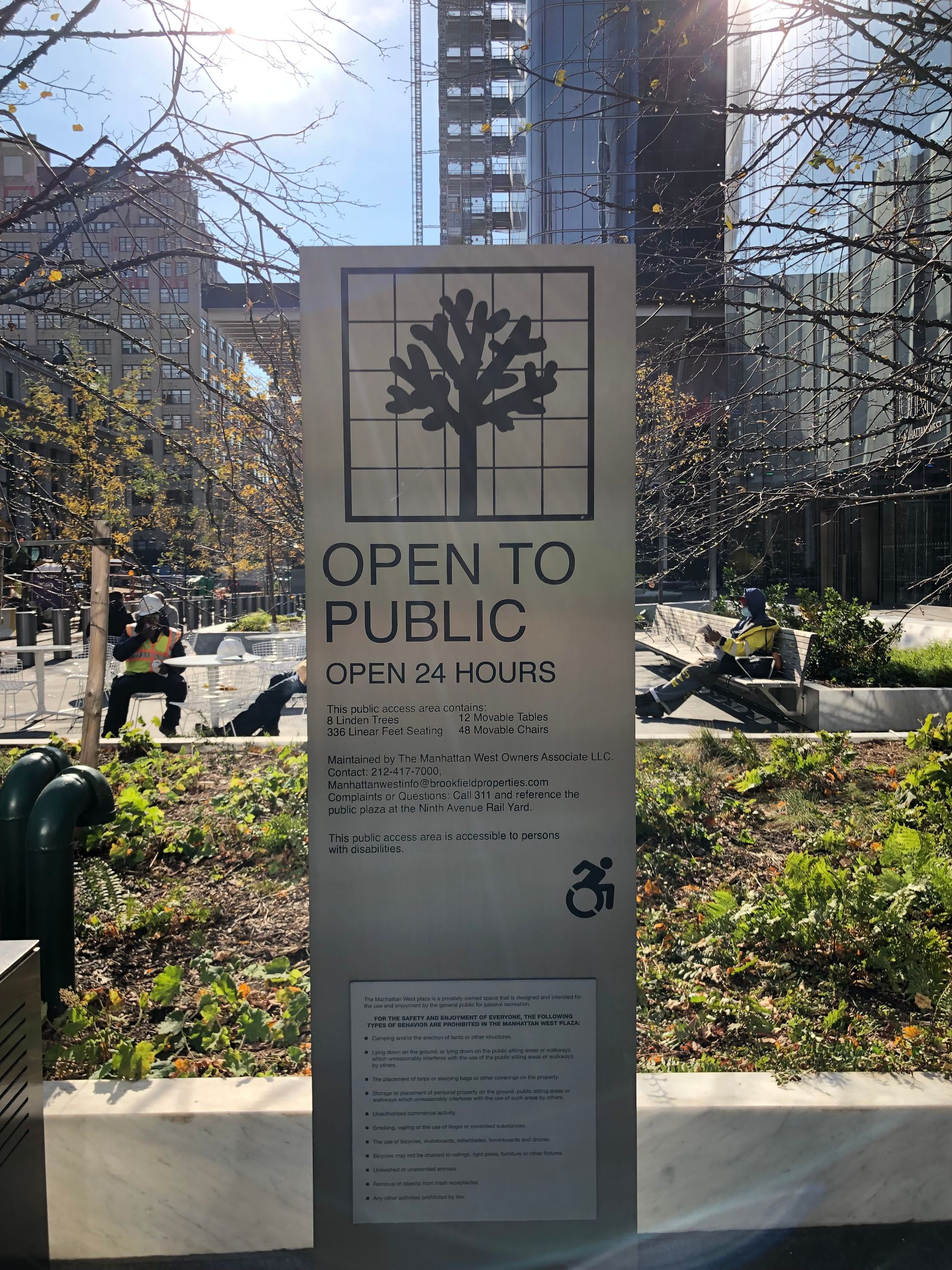 Walking through Manhattan West was a respite from the congested streets just beyond it. I love visiting major cities but inevitably find myself seeking out quiet spots to recharge. Coffee shops, museums, and hotel lobbies make that easy but it's harder to find outdoors. Thankfully, Manhattan West has chairs and tables sprinkled around the property offering different views and experiences for slowing down. Sit under live trees in their plaza, in the sun off of 9th St to people-watch, or delight in their interactive Citrovia installation.
I left Hudson Yards and Manhattan West feeling thankful for big visions and private investments that make cool shit like this happen. And by cool shit, I mean comfortable places that are open to the public, well-maintained, and bring commerce and community together through engaging and vibrant programming as well as sensorial pleasure through art, architecture, and design. All of which started as an idea...
New New York built environments, I like where you're going.