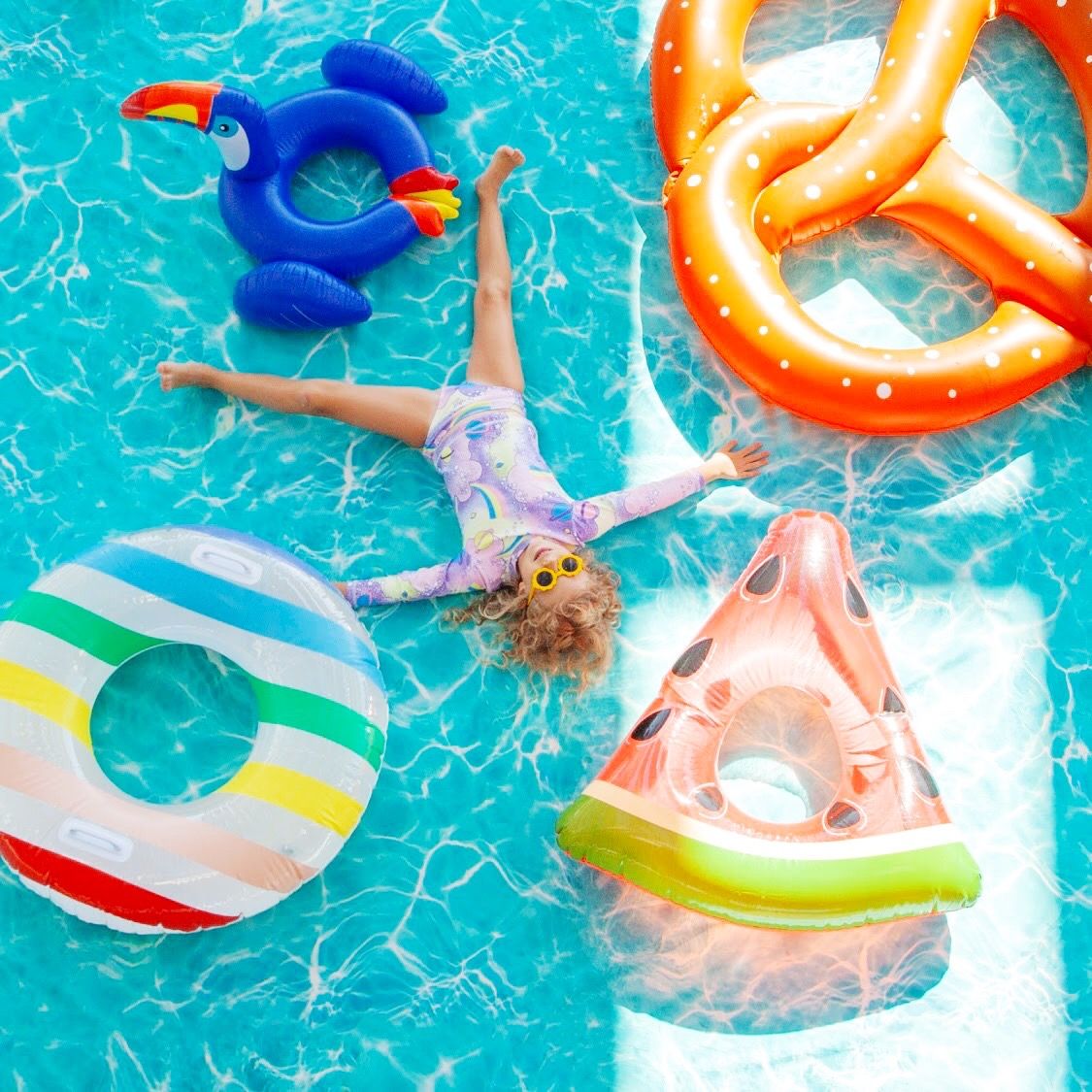 And just like that, it's Summertime.
Though last Summer was rough, my family did have our share of magical
moments.  Most memorable is our Pop Up Pool Party with Katie Stewart, showcasing her custom-designed fabric created through her Spoonflower Small Business Grant.
I count myself lucky to know Katie, a friend and incredibly talented graphic designer, visual artist, and photographer.  She brings joy and fun into everything she does (see her work for Port of Raleigh here, here, and here).
This photo of our eldest daughter says it all for the season ahead, and perhaps the state of mind for year-round livin.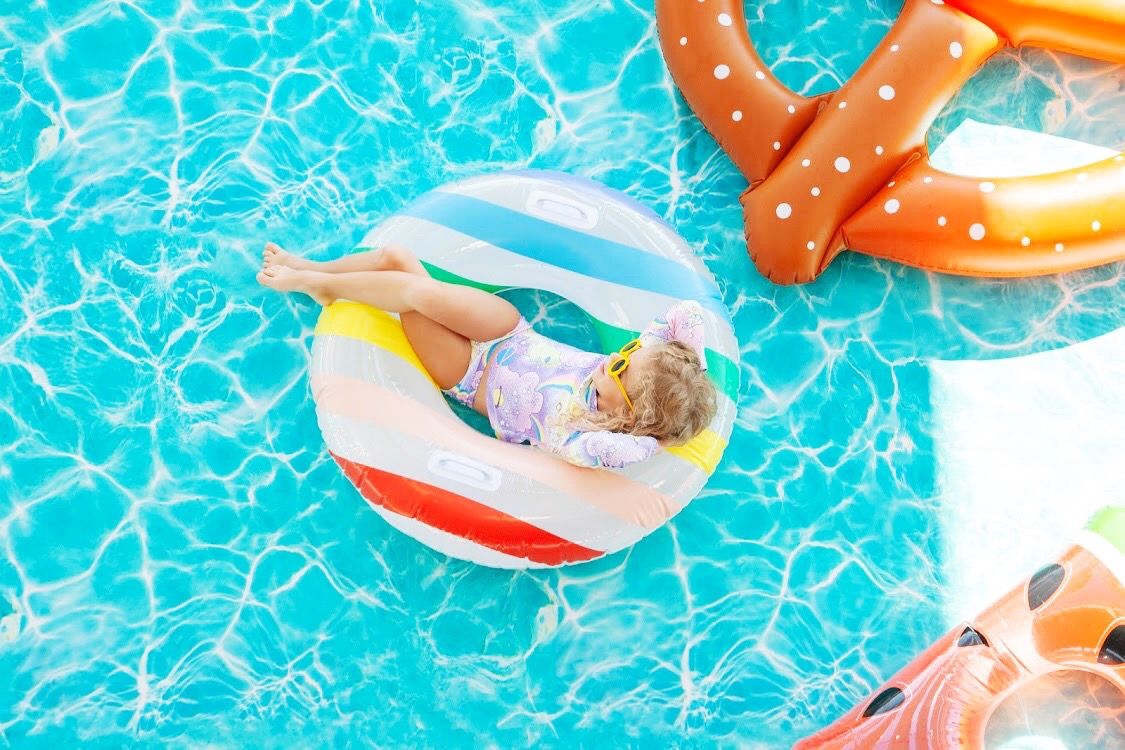 Enjoy these new Summer-themed finds.  They just might make your Summer days all the brighter.
Vacation. A yet to be released sunscreen with branding and marketing that will make you chuckle...and groove.  A brilliant product introduction from Poolside FM – my new go-to playlist for the season.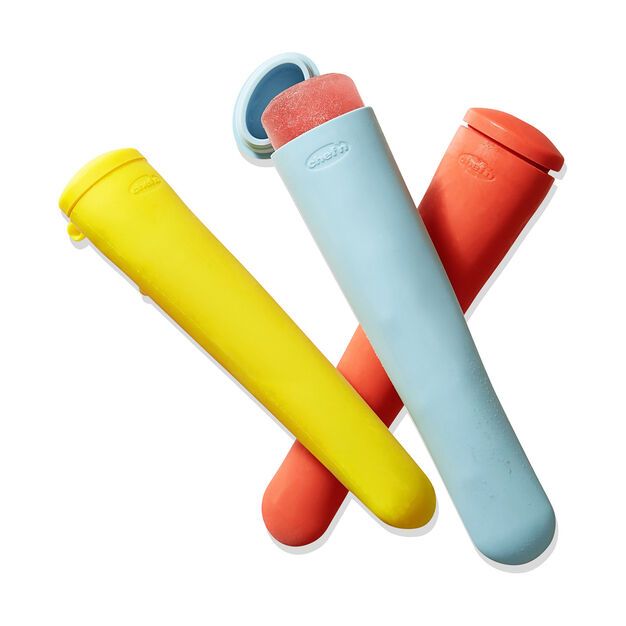 Ice Pop Maker, Set of 6.  I love it when silicone gets put to good use. Make mess-free frozen ice push pops from juice, yogurt, coffee, tea, and booze for happy kids and adults alike.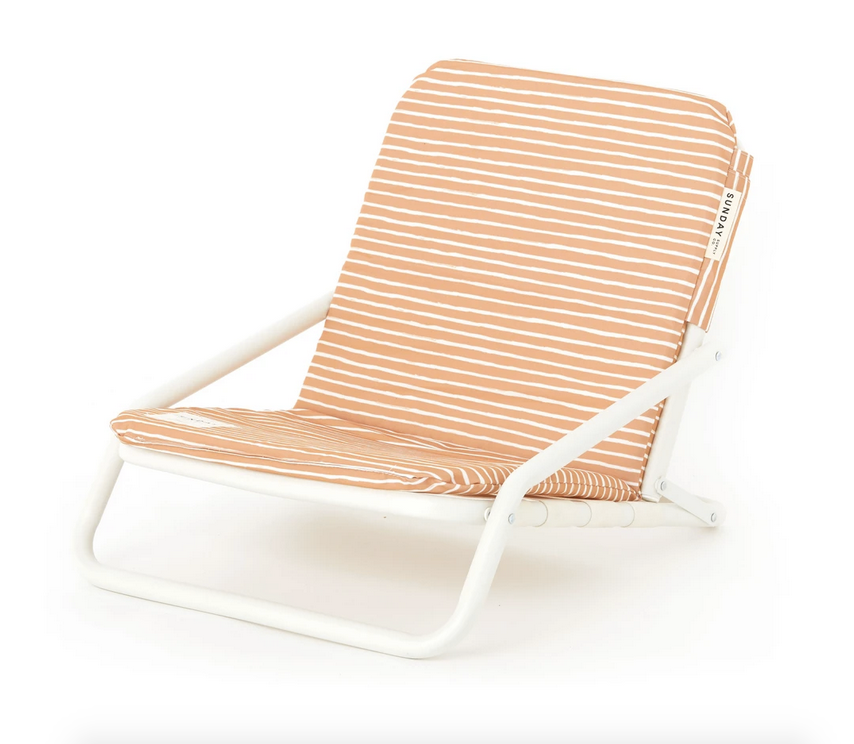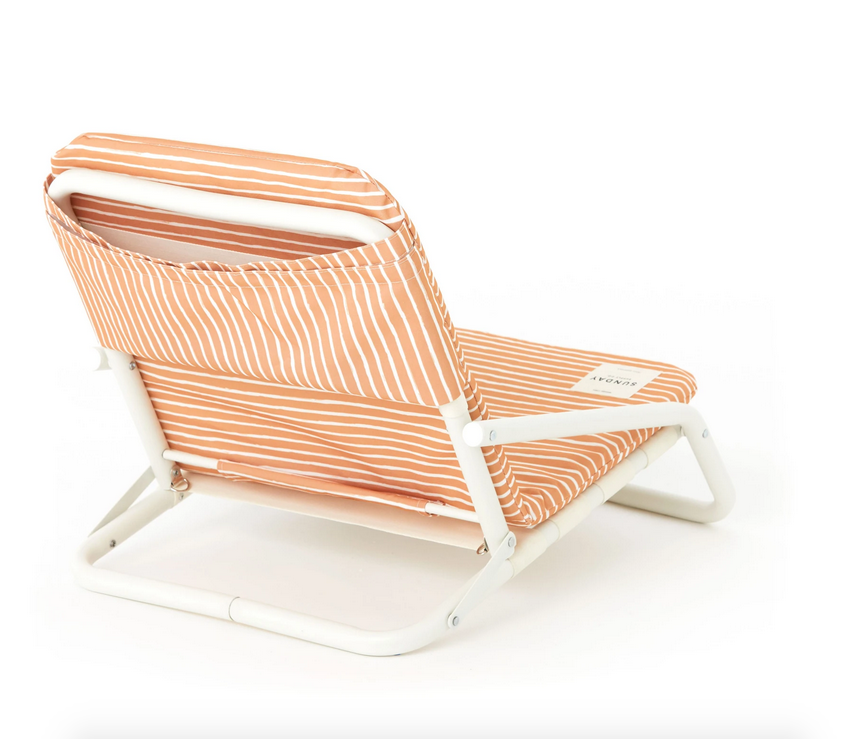 Pool deck + Beach Chair.  In a recent selection for a photo shoot, I styled (and modeled in – more on that later) I was impressed with how lightweight, easy to carry, and comfortable this compact design is.  I love the detachable carrying strap and back pocket for books, magazines, phones, etc.  Available in a variety of colors and prints via Sunday Supply Co.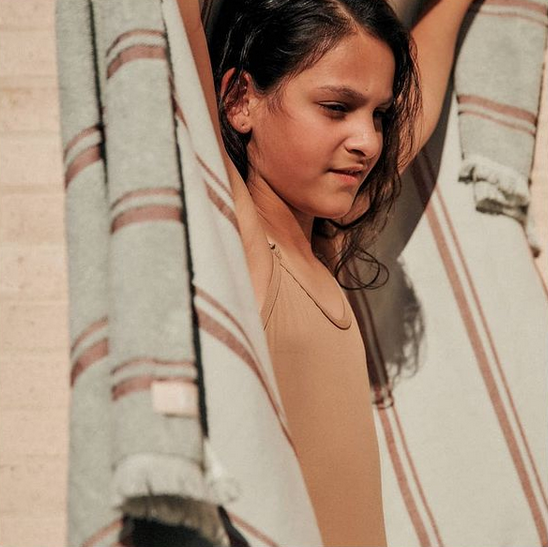 Pool + Beach (+Bath) Towels.  There's no hiding that I love stripes, and my favorite striped towels are by the Australian brand, KØBN.  I introduced these towels to the USA via Port of Raleigh and they were one of our best-selling items.  Made in Turkey, they're generously sized, thin yet highly absorbent and quick drying, and great for the whole family inside and outside of the home.  This will be our fourth summer with KØBN towels, and judging by the way they wash and wear, I'm confident we'll have many many more together.  New colors are shown above; explore them all here.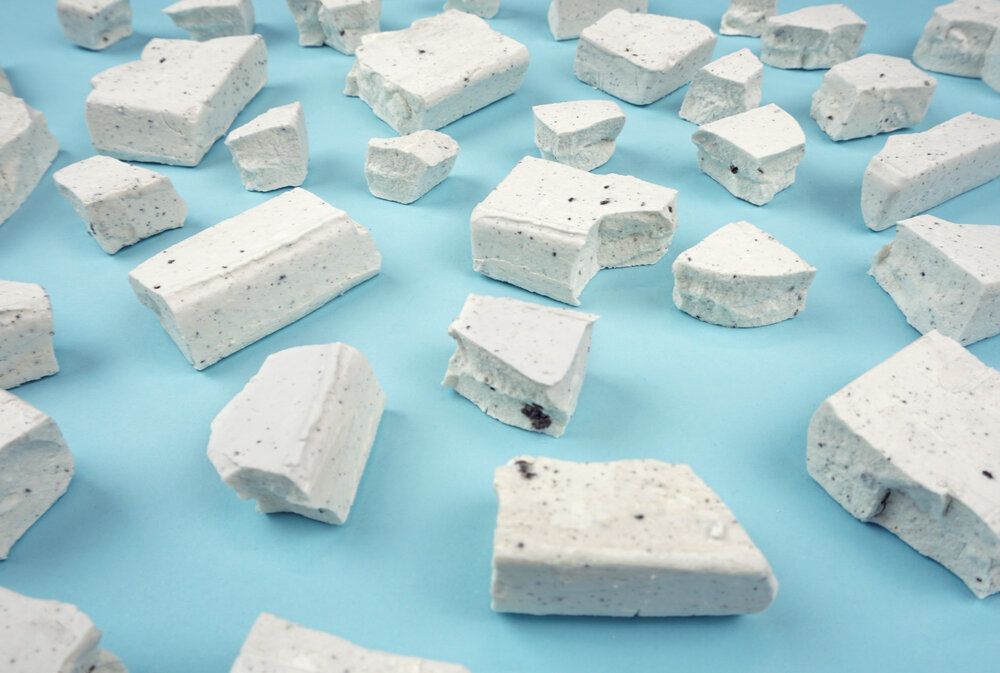 Freeze Dried Ice Cream.  Astronaut treats with updated ingredients.  Definitely on my list of new things to try for anytime, travel-friendly, melt-free enjoyment.  Especially since my husband and kids are ice cream fanatics (he grew up in Alaska, where apparently year-round ice cream consumption is higher than anywhere else in the world (per capita, maybe?). Fact or not, I believe it.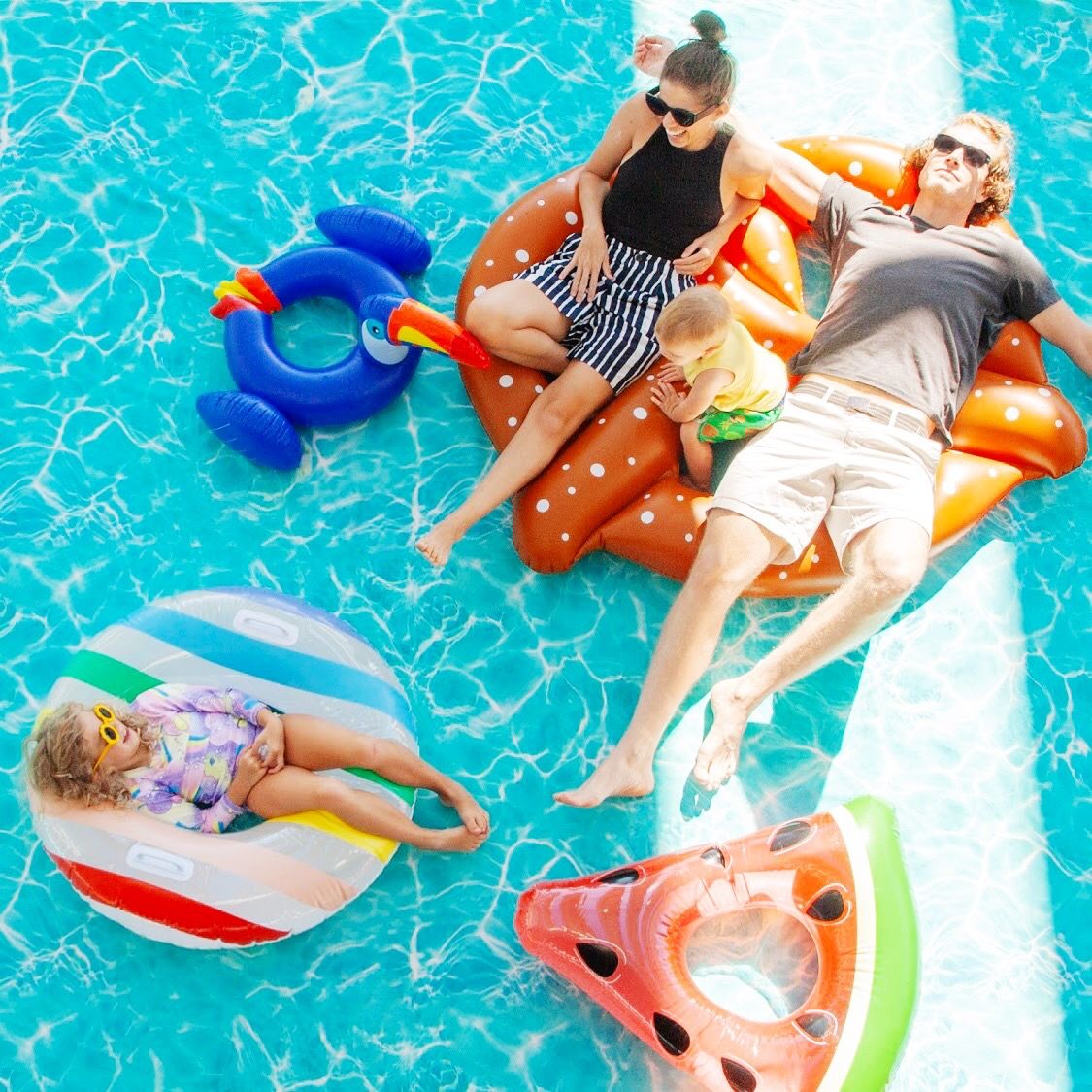 Thanks for hanging poolside with AM Notes. Happy Summer.
And thanks again to Katie Stewart for the joyful photos and memories!