As a parent, I get really excited to discover worthwhile television content for our kids.  As an Experience Advisor & Practitioner, I get really excited thinking of the ways a show like Waffles + Mochi could roll out into the real world.
In the new Netflix production starring Michelle Obama and two leading puppets, Waffles and Mochi, each episode explores food through world travels, human connections, shared recipes/meals, and a beautiful dose of curiosity.  Each adventure begins and ends in a neighborhood grocery store owned and operated by Mrs. O.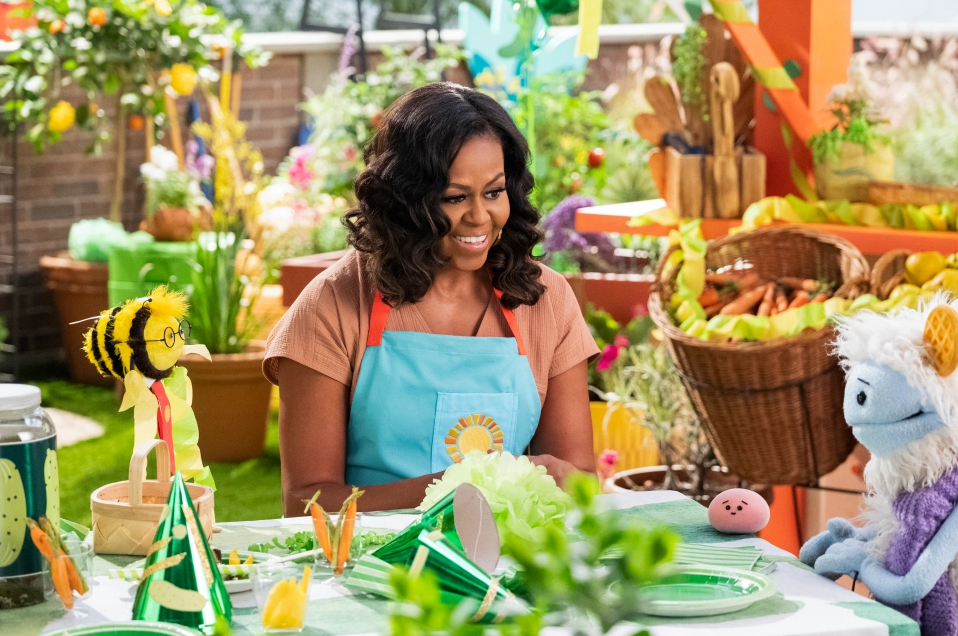 What initially caught my attention with the series was twofold.  First, our eldest daughter (nearly 6) is a highly selective eater, so any positive interest she can take in food is definitely welcome.  Second, at some point during the pandemic, a friend and I explored the idea of traveling the world by going to local markets.  If we couldn't physically explore market stalls in Southeast Asia or Central and South America (pandemic or not), why not visit a local Asian or Latin American market with a sense of travel?  Doing so with kids could be an educational and fun way to try new foods and recipes at home.
Waffles + Mochi does just that and more via the screen.  An instant family favorite, I was impressed not only by the quality of the content but the thoughtfulness of the details — the storylines and visual applications lay the groundwork for the future. From what I can see, Netflix and the show's creators have primed Waffles + Mochi for major franchise opportunities that could further expand their Pass The Love initiative with the Partnership for a Healthier America.
Let's start with a simple merchandise opportunity with the aprons worn by cast members. In one episode, I noticed a familiar "&" symbol on Waffles' apron during a badge ceremony (more on the badges below).  The ampersand on the apron pocket belongs to the apron empire Hedley & Bennett.  I met Hedley & Bennett's founder, Ellen Bennett, about eight years ago in LA when she spoke on a women's entrepreneurship panel.  If anyone is going to help make cooking, and curiosity about food, be more fun for kids, it's her (and her brand).  Her passion and spirit is infectious and inspirational.  It's just a matter of time before Waffles + Mochi branded Hedley & Bennett aprons become available for the entire family to purchase.  And likely with a portion of proceeds going to Partnership for a Healthier America or similar organizations.
Each time Waffles + Mochi accomplish/learn something related to the food of the day/episode, they are awarded a badge by Mrs. O to place on their apron. The badges are very much like scout badges, and as a former girl scout, I can attest to the power of these stitched medallions.  The process of starting and completing a new learning adventure, and receiving a tangible memento to mark your growth, is sticky.   It stuck with me so much that I kept my patch-filled girls scout jacket and brownie sash well into adulthood.  I still have an envelope of loose patches I will eventually share with my daughters.  And it's not just me who thinks they're special: my husband recently emptied out his late mother's hope chest, and inside, there was an envelope full of her old Girl Scout patches, much, much older than mine.
The show currently has a digital way of learning and earning badges but I can imagine physical versions being made available for caregivers to buy and give to kids as they advance in their culinary curiosities and skills.  And likely on a branded Hedley & Bennett apron. Quick iron-on patches would do the trick.
Or better yet, advance and earn badges through IRL Waffles + Mochi cooking classes!  The show's franchise could either set up its own locations or partner with existing franchises like Flour Power Kids Cooking Studios to offer special branded/themed courses.  How often, as kids, did you wish you could step onto Sesame Street and experience what the characters experienced?  Or something similar?  Think of walking into a theme park and the magic of that.  How you're quickly transported to whatever place and time the space is designed to resemble. Kids' imaginations are powerful (as are adults, but we often forget) … can you imagine what a retail store/cooking studio experience for Waffles + Mochi could feel like?  I think my eldest would actually try, and even enjoy, a mushroom if she were offered one in that setting.
Taking it further, each location could have a cafe/restaurant component.  The menu could take cues from each episode, featuring food from around the world that pairs with the ingredients and recipes shared online for fans to explore and make at home.
And even better, what if this physical location could be designed to have a rooftop garden, just like in the show? Perhaps partnerships with local community gardens and agricultural experts could help with operations and knowledge sharing.
All along, proceeds from the above could support the show's campaign with Partnership for a Healthier America.  Retail/studio locations could support food drives, facilitate the Million Meals Goal, and become important community hubs for healthy and happy connections for growing stronger together, locally and globally.
The show is wonderful as-is, but equally wonderful is thinking of the ways it could be a driver for an even more positive impact.